GAA commemorate Croke Park in Frongoch, Wales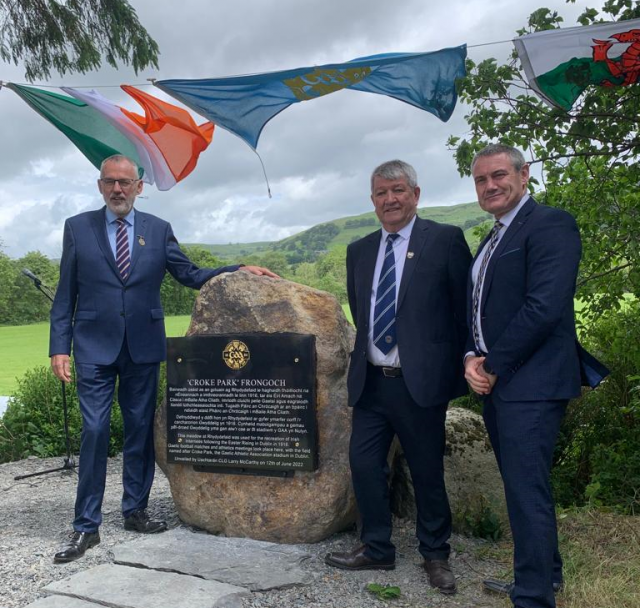 Uachtarán CLG Uladh, Ciaran McLaughlin, and Runaí, Brian McAvoy, were among a GAA delegation at the recent unveiling of a plaque commemorating the existence of a field called 'Croke Park' on the site of the 1916 Easter Rising internment camp in Frongoch, Wales. 
After the Rising of April 1916, Irish were men sent to internment camps in Britain, and the largest contingent of 1,800 were sent to Frongoch in rural North Wales.
While there, the men organised athletics meetings and Gaelic football matches and they christened the field used for these activities as Croke Park. In July, of that year, it was also the setting for the final of the Wolfe Tone Cup in football, when a Kerry team defeated Louth in a match known as the All-Ireland Behind Barbed Wire.
The fact that the Kerry team in Frongoch included 12 inter-county players and the Louth side had nine inter-county players illustrates the strength of the GAA interest among those in the camp. To this day, that field in Frongoch remains known locally as 'Croke Park'.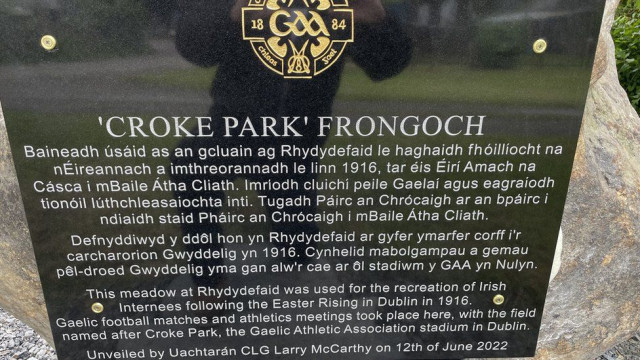 Last Sunday, Uachtarán CLG Larry McCarthy led the delegation of GAA officials for an unveiling of the plaque. The specially commissioned stone carries Welsh, Irish and English dedications to the Croke Park field and is part of a wider initiative by the local historical society to preserve the significance of the area, which was once a whiskey distillery, then a German POW camp in 1914 before housing the Easter Rising internees between June and December of 1916.
Read the full story of theGAA Commemoration at Frongoch at gaa.ie/news/gaa-commemorate-croke-park-in-frongoch-wales