Ulster GAA launches 2022 Young Leaders Programme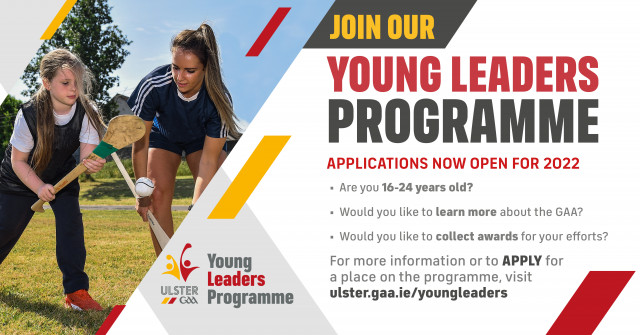 Ulster GAA has launched its Young Leaders Programme for 2022 with applications now open for young GAA members across the province aged 16-24 years old. 
The Programme offers young Gaels an opportunity to develop their skills, knowledge and understanding of issues relating to Gaelic Games and sport.
The Programme extends across six months and includes:
Three-Day Young Leaders Academy in July: Focusing on preparing young people to play a fuller role in their GAA club by achieving the GAA Foundation Coaching Award and GAA Safeguarding Award. The Academy also explores the delivery of Gaelic Games to all abilities including those with disabilities through the GAA for ALL Programme, in which the young people will have the opportunity to play Wheelchair Hurling and Football.  The Academy will also explore the new GAA Consent Programme, while other activities will include coaching drills in Gaelic Games and water sports.
Two Day Canoeing Expedition in July: An essential element of the Joint Award Initiative for Gaisce The President's Award and Duke of Edinburgh Award, this element helps build teamwork among the participants and provides a fun adventure for all to work together and develop their teamworking skills.
Four Online Workshops in July/August: Focusing on key issues relating to the GAA including Event Management & Leadership, Sports Communication, Sports Science and Nutrition and Lifestyle.
12-week volunteering July-September: Participants are asked to volunteer within their club for 12 weeks and will be awarded the Sports Inspire Award 50hrs and Volunteer Now's Youth Impact Award on completion of their volunteering.
Six months physical activity May-October: Participants can count their training and games with any teams they play for. This programme however is not limited to just young players. Any non-players can count other fitness towards this element (including gym work, walking, running etc).  Physical activity can be backdated to May 2022
The Ulster GAA Young Leaders Programme is always an extremely popular programme and a high volume of interest is expected, so young GAA members are encouraged to get their applications in before the 12pm deadline on Monday 20th June 2022.
On successful completion of this programme, the Young Leaders will be awarded:
2022 Ulster GAA Young Leaders Programme Award
GAA Foundation Coaching Award
GAA Safeguarding Award
Sports Inspire Award 50hrs
Volunteer Now Youth Impact Award 50 hrs
Gaisce – the President's Award/Duke of Edinburgh Bronze Award (participants can choose which award they prefer Gaisce or Duke of Edinburgh)
Launching the 2022 Young Leaders Programme, Ulster GAA President Ciaran McLaughlin said:
"This Programme has developed over the last few years into a comprehensive learning and fun experience for young Gaels interested in improving their knowledge, skill and experience in Gaelic Games.
"The Programme builds capacity of young volunteers and encourages them to actively volunteer in their own club.  This means both the young person and their club benefit greatly from their involvement.  I encourage young GAA members to get their applications in by the deadline as this is always a very popular programme."
Young GAA members can apply for this programme by visiting ulster.gaa.ie/youngleaders for full information and application form.
For further information or inquiries please contact Sharon Haughey-Grimley by email sharon.haughey.ulster@gaa.ie or tel: 07825855713