National Inclusive Fitness Day celebrated by Ulster GAA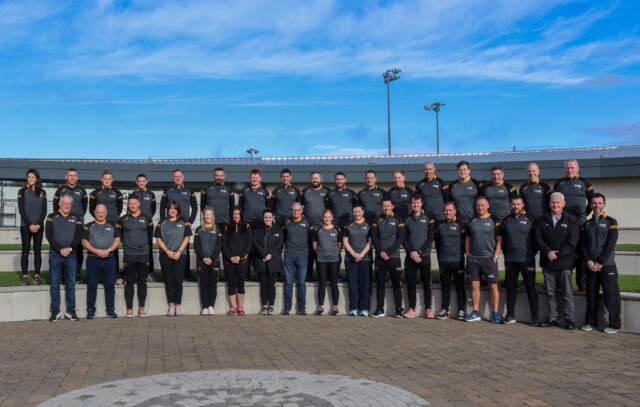 Ulster GAA staff today took part in the National Inclusive Fitness Day, which takes place each year to mark the beginning of European Week of Sport (23rd – 30th September).
The European Week of Sport promotes more active, healthier lifestyles to millions of people in Europe and beyond. National GAA use this day to mark National Inclusion Family Day, with the theme this year being 'GAA Healthy Families'.
The event uses the European Week of Sport to promote sport, physical and healthy lifestyle activity to everyone regardless of age, sexual orientation, ability, ethnicity, nationality, or fitness level.
Ulster GAA Staff came together this morning at the Tyrone GAA Centre at Garvaghey for a day of inclusive games, team-building, and health checks.
GAA Diversity and Inclusion officer Ger McTavish explains:
"Inclusion is about making a difference. Inclusivity is a movement, a move to include. Being truly inclusive is living our GAA motto, 'Where we all Belong'. "This work takes many forms. It ranges from ensuring that our policies and practices support the cultural integration and social inclusion of people from across Ireland's diverse ethnic population, to making sure that all Gaelic games are adapted for people with different abilities."
Ulster GAA CEO/Provincial Secretary Brian McAvoy said:
"Ulster GAA are proud to play our part in the eighth European Week of Sport and have scheduled our Staff Health Day to coincide with this initiative.
"A healthy workforce not only contributes to the overall wellbeing of the staff but adds to the confidence levels and overall wellbeing of the individual.  Covid provided us with an opportunity to take stock of where we were as a society and many of us recalibrated our lives as a consequence.
"Now that we are returning to 'normality' it is important to keep active and promote a healthy lifestyle across all of society.  Today's event is an important statement from Ulster GAA on the value we place on health, wellbeing and an active lifestyle."
For more information about Ulster GAA Health & Wellbeing initiatives and programmes, visit ulster.gaa.ie/health or contact maura.mcmenamin.ulster@gaa.ie