Ulster GAA teams up with Translink and IFA to launch Play It Safe campaign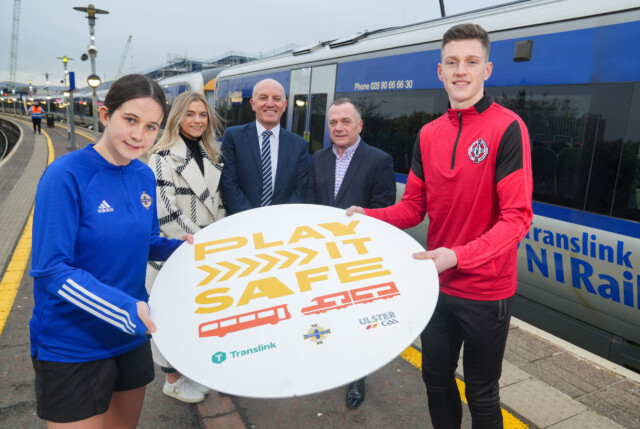 Ulster GAA has partnered with Translink and the Irish Football Association to launch the 'Play It Safe campaign', an initiative which delivers a series of important safety messages to promote responsible behaviour when using or around public transport.
Using a sports challenge theme and featuring youth team players from Irish Football Association and Ulster GAA, the campaign demonstrates how the values displayed on the pitch can also apply when travelling by bus, train or Glider.
Translink's Director of Service Operations Ian Campbell said:
"Safety is always our top priority and we're proud to launch our new 'Play It Safe' campaign in partnership with Ulster GAA and the Irish Football Association.
"The campaign uses a sporting theme to highlight important issues like treating everyone with respect, staying alert, avoiding risks, anti-social behaviour consequences and following safety advice so that everyone can enjoy safe and comfortable journeys using public transport.
"Our services play a vital role in keeping everyone connected to family, friends, work, leisure and essential services. We'd ask everyone to Play It Safe when it comes to using public transport so we can keep services operating and get people where they need to be safely."
Michael McArdle, Public Relations Officer with Ulster GAA, commented:
"Respect for our communities, both on and off the playing field is a key value throughout the GAA and we would encourage our members to behave responsibly at all times when using public transport.
"The wellbeing and welfare of our members is always of paramount importance and Ulster GAA is delighted to be a part of Translink's 'Play it Safe' initiative"
Regan McFarland, Marketing & Commercial Partnerships Officer at the Irish Football Association, said:

"Values in sport can be applied both on and off the pitch, especially when it comes to playing it safe. That's why the Irish Football Association is proud to support Translink's 'Play it Safe' campaign.
"Public transport connects supporters to football at all levels, whether it's travelling to grassroots football or a senior international fixture. We want the entire football family and beyond to always 'Play it Safe' on public transport."
For more information on Translink's Play It Safe Campaign follow @Translink_NI #PlayItSafeNI and visit www.translink.co.uk/playitsafe .