2023 Electric Ireland Ulster Minor Championship officially launched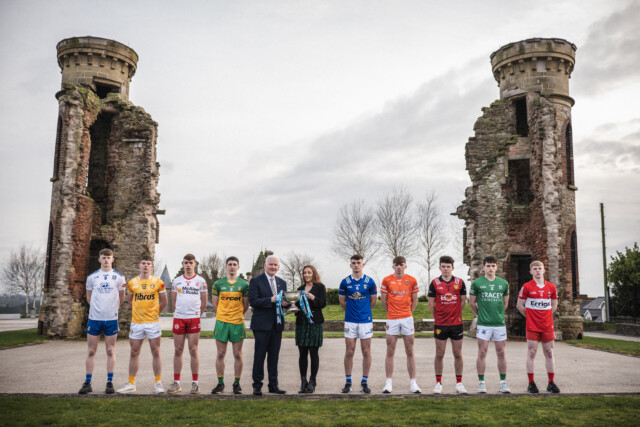 The 2023 Electric Ireland Ulster Minor Football Championship was launched this week at the Hill of the O'Neill in Dungannon, Co. Tyrone.
In a new competition format to previous seasons, this year's championship will feature the nine Ulster counties drawn into two groups, with Derry, Donegal, Down, Fermanagh and Monaghan in Group A, and Antrim, Armagh, Cavan and holders Tyrone in Group B. Each team will play the other teams in their section once, with the top four teams in each group proceeding to the Quarter Finals.
The action gets underway this Saturday as Monaghan host Down at Clones.
Speaking at the launch, Michael Geoghegan, Ulster GAA Vice President, commented:
"It gives me great pleasure to launch the 2023 Electric Ireland Ulster Minor Football Championships here in Dungannon this evening. The Ulster Minor Football Championship is well established as one of the premier GAA competitions in Ireland, showcasing the best young talent in the game.
"This earlier time in the calendar and extended format gives us the opportunity to see more action this year and each county will believe that they can get the result on any given day. I look forward to some great games across a number of action-packed weeks."
Una Lavery, NI Sales & Marketing Manager at Electric Ireland, commented:
"We're delighted to welcome back the new season of the Electric Ireland GAA Minor Championships for what is our 12th year sponsoring this special competition. Our #ThisIsMajor campaign showcases the incredible levels of talent and dedication of these young Minor players as they go on to make their mark on the GAA. We look forward to celebrating all those involved in Electric Ireland GAA Minor Championship over the coming months."
2023 Electric Ireland Ulster Minor Football Championship Schedule
Round 2 (Sat) – 8th April
Section A
Muineachán V An Dún at Clones, 1pm
Round 1 (Sat) – 15th April
Section A
Fear Manach V Muineachán at Brewster Park, 3pm
An Dún V Doire at Páirc Esler, 1pm
Section B
An Cabhán V Tír Eoghain at Kingspan Breffni, 3pm
Ard Mhacha V Aontroim at Box-It Athletic Grounds, 1pm
Round 2 (Wed) – 19th April
Section A
Dún na nGall V Fear Manach at Páirc Mac Cumhaill, 7.30pm
Round 3 (Sat) – 22th April
Section A
Doire V Muineachán at Owenbeg, 1pm
An Dún V Donegal at Páírc Esler, 1pm
Section B
Aontroim V An Cabhán at TBC, 1pm
Tír Eoghain V Ard Mhacha at O'Neill's Healy Park, 1pm
Round 4 (Sat) – 29th April
Section A
Fear Manach V An Dún at Brewster Park, 1pm
Dún na nGall V Doire at Páirc Mac Cumhaill, 1pm
Section B
Tír Eoghain V Aontroim at O'Neill's Healy Park, 1pm
Ard Mhacha V An Cabhán at Box-It Athletic Grounds, 1pm
Round 5 (Sat) – 6th May
Section A
Muineachán V Dún na nGall at Clones, 1pm
Doire V Fear Manach at Owenbeg, 1pm
Quarter Finals 13th/14th May (First named team has home advantage)
(1) 1st Section A V 4th Section B
(2) 1st Section B V 4th Section A
(3) 2nd Section A V 3rd Section B
(4) 2nd Section B V 3rd Section A
Semi Finals 20th/21th May
(1) Winner 1 V Winner 4
(2) Winner 2 V Winner 3
Final 27th/28th May (1) Winner 1 V Winner 2
All-Ireland Quarter Finals on 10th May