Achoimre ar babhta ceannais Scór na nÓg – Scór na nÓg Final 2023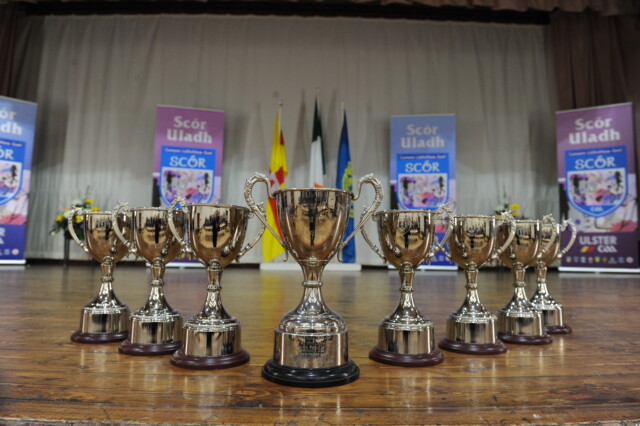 Is gné fíorthábhachtach é an Scór den Cumann Lúthchleas Gael chun ár dtraidisiún Gaelach a cheiliúradh. Scór is a hugely important aspect of our Gaelic Athletic Association and of celebrating our Gaelic tradition.
Bhain muid uilig an-sult as Babhta Ceannais Scór na nÓg i dTeach na dTrí Mhíle, Muineachán. The Ulster Scór took place Saturday 15th of April in Threemilehouse, Monaghan. The event was an excellent occasion and a fitting showcase of our culture and the talents of our young people within the province of Ulster. The final drew large crowds and captured the attention of a much wider audience through our live stream broadcast. This is testament to the regard in which these young people are held within their clubs, their counties and within the province.
There was a very high standard on display in all of the disciplines that cover all aspects of Irish culture: Rince Foirne/Céilí Dancing, Amhránaíocht Aonair/Solo Singing, Bailéad Grúpa/Ballad Group, Recitation/Aithriseoireacht, Nuachleas/Novelty Act, Ceol Uirlise/Instrumental Music, Rince seit/Set Dancing and Trath na gceist/Table Quiz.
It is a privilege to see the results of the hard work put in by these young people and their peers. They did themselves, their families, mentors and communities so proud. Mol an óige agus tiocfaidh sí.
Having both the onstage competitions and the Trath na gCeist in Marion Donnelly's home county was a very fitting tribute to her memory. It was particularly poignant that the Trath na gCeist was hosted in Emyvale, home club of our dear colleague and friend Marion and attended by her family.
Thanks to the Monaghan Scór committee as well as both Monaghan clubs, Emyvale and Cumman Sean Mac Dermotts who worked tirelessly to ensure that everything was in place for the final. Thanks also to Coiste Scór Uladh for all of their hard work in recent times. Ní neart go cur le chéile.
Comórtas Buaiteoirí
Amhránaíocht Aonair / Solo Singing – Cait Nic Giolla Chomhaill, St. Eunan's GAA Club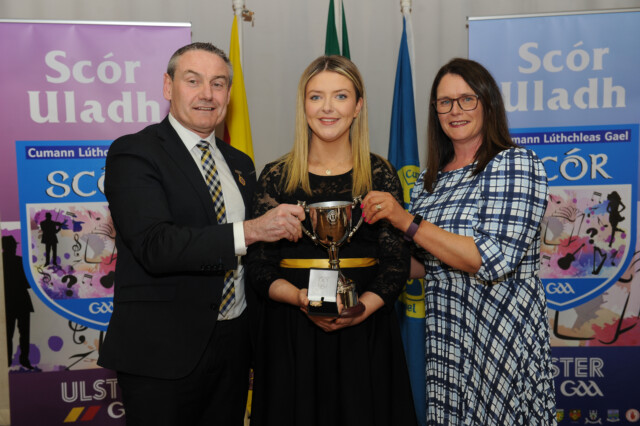 Rince Foirne / Céilí Dancing – Cill Shléibhe / Killeavy GAA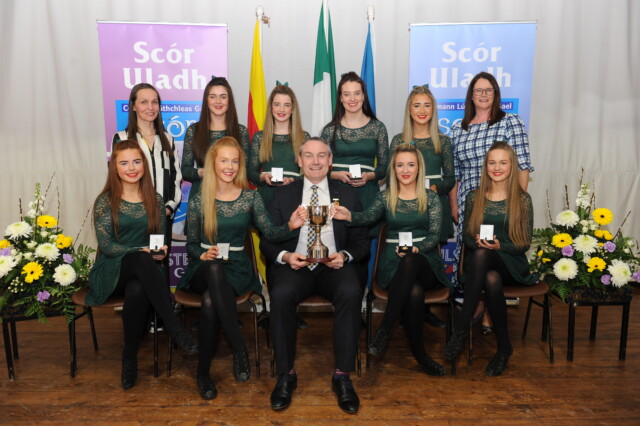 Aithriseoireacht / Recitation – Niamh Ní Uiginn, CLG Watty Graham, An Gleann / Watty Grahams / Glen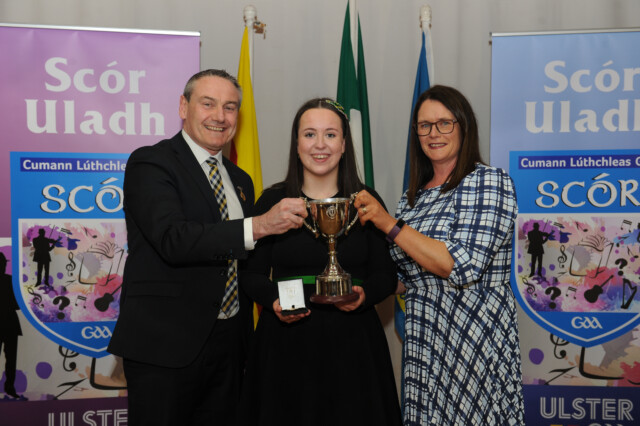 Bailéad Ghrúpa / Ballad Groups – Loch Mhic Ruairí / Loughmacrory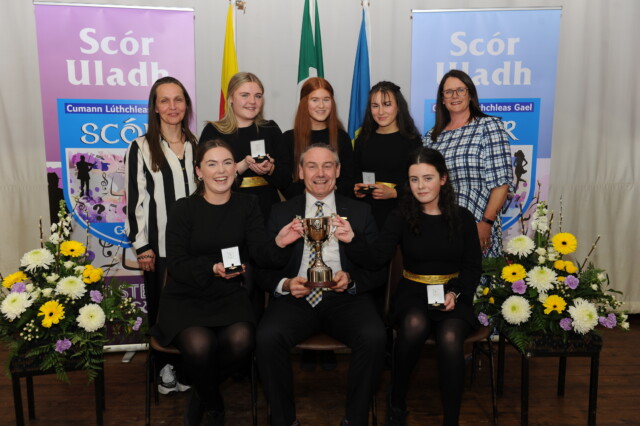 Nuachleas / Novelty – Bun Cranncha / Buncrana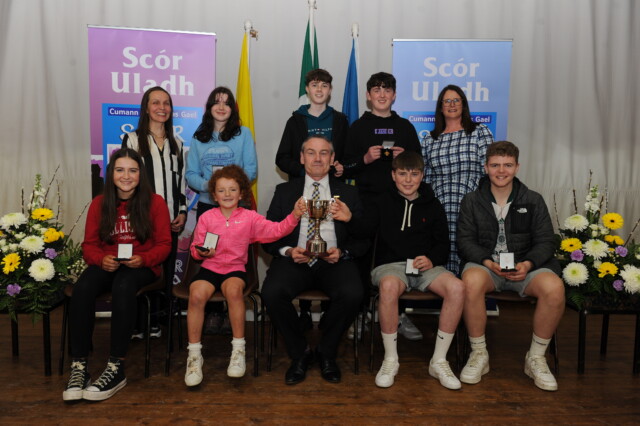 Ceol Uirlise / Instrumental – Ropairí na Madáin / Madden Raparees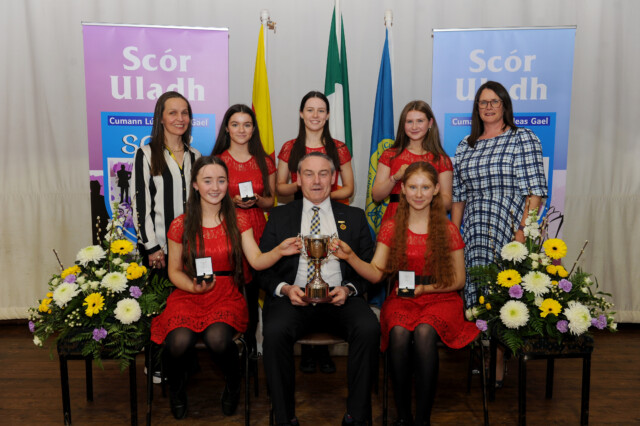 Rince Seit / Set Dancing – Gleann an Iolair / Glenullin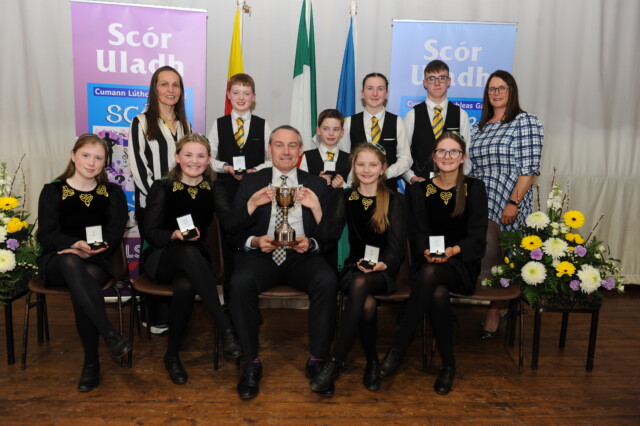 Trath na gceist / Table Quiz – Naomh Columba / St. Columba's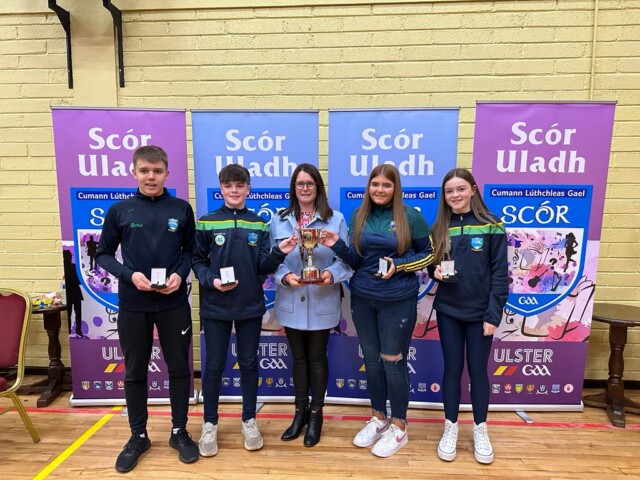 Maith iad uilig as babhta leath-Ceannais na hÉireann a bhaint amach i mbliana. Well done to them all for reaching the All-Ireland Semi-final this year.
Guimid gach rath orthu go léir. We wish them all the very best.