Casement Park part of UK and Ireland partnership bid for Euro 2028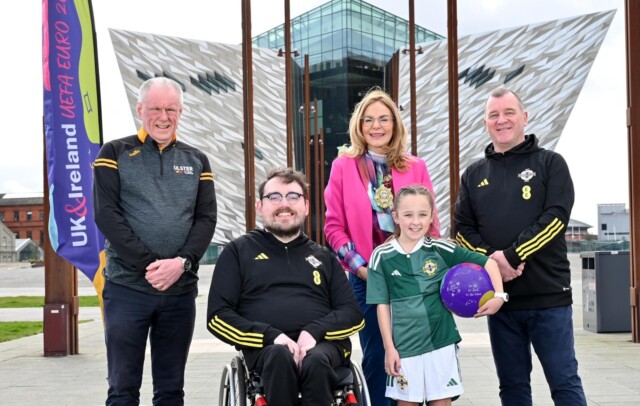 The Irish Football Association has confirmed that Northern Ireland is part of the pioneering UK and Ireland partnership bid to host UEFA Euro 2028.
The final bid was submitted to UEFA today and features host cities and stadia from all five associations, including the Irish Football Association, the Football Association of Ireland, the Scottish Football Association, the Welsh Football Association and the Football Association.
Irish FA Chief Executive Patrick Nelson said: "This is a unique opportunity for Northern Ireland to be part of a world class partnership bid to host the greatest ever UEFA European Football Championships and deliver a legacy of Football for All, Football for Good and Football for the Future.
"Northern Ireland has hosted international sporting events on a global stage and this exciting collaboration between the Irish Football Association, government partners, Belfast City Council and GAA will welcome the world for a UEFA Euro 28 festival of football that will unite, inspire and benefit generations to come."
Ulster GAA CEO Brian McAvoy also welcomed the announcement, saying: "The GAA and Irish Football Association have developed innovative partnerships to harness the power of sport to unite and empower people of all ages and backgrounds.
"Hosting world class UEFA Euro 28 football matches at the new Casement Park stadium would build on this collaboration and allow Belfast to deliver an inclusive and unforgettable celebration of football for all."
Secretary of State for Northern Ireland, Rt Hon Chris Heaton-Harris MP, said: "As the UK and Ireland bid to host UEFA Euro 2028, this presents a fantastic opportunity for Northern Ireland to host world class sport.
"Should the bid be successful, the hosting of tournament matches at Casement Park in Belfast has the potential to deliver significant economic and social benefits right across Northern Ireland and create a legacy of participation and sustainability for current and future generations."
Lord Mayor of Belfast, Councillor Christina Black, said: "The UEFA Euro 28 bid provides a wonderful opportunity to demonstrate the strong partnerships and expertise that make Belfast and Northern Ireland a world class place to host major international events.
"UEFA Euro 28 would not only inspire future generations of football players, fans and volunteers but showcase the rich and diverse culture and tourism Belfast has to offer on a global stage."