Q Radio gets 'On the ball' with Ulster GAA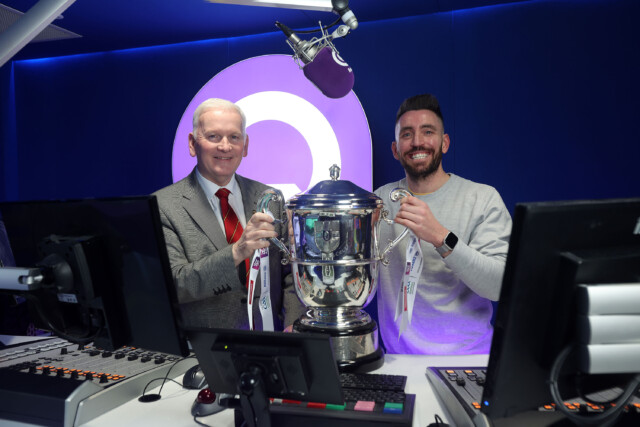 Q Radio was this week announced as the Official Media Partner of the 2023 Ulster GAA Senior Football Championship, with Armagh facing Antrim in the first round this weekend.
As the new voice of Ulster GAA, the partnership will build audiences and add value for listeners and fans with insightful and entertaining coverage hitting the airways.
Also airing exclusively on Q Radio, a new sporting feature 'On the Ball' will kick-off on the Breakfast show on Friday mornings, with the weekend sports line-up and predictions from Irish News Sports Correspondent Neil Loughran.
And for supporters attending games, Q Radio will be close to the action with a new 'fan zone' providing entertainment, county colours, prizes and a host of activities to bring the match-day experience to a new level.
Welcoming the announcement, Michael Geoghegan, Ulster GAA Vice President, commented:
"The Ulster Senior Football Championship is one of the top events in the Irish sporting calendar each year each and it generates a huge interest from GAA supporters. We look forward to working with Q Radio to share all the latest Championship news and updates, as well as adding to the matchday experience for supporters coming to our venues."
Annette McManus, Group Marketing and Communications Manager said:
"Q Radio has a strong tradition of covering a broad range of local sporting events and we're delighted to be announced as the official media partner for the 2023 Ulster GAA Senior Football Championship. GAA is a passion for many of our audience and this relationship will see us bring unique opportunities to games, and content to our listeners. I'm very much looking forward to the season getting underway this weekend, but as an Armagh supporter, I will be cheering on the orchard county!"
With 226,000 weekly listeners and some of the country's most established DJ's on its books, Q Radio is the home of 'big personality' and 'big reach' across Northern Ireland.
For more information on the Ulster GAA Senior Football Championship follow @qradio_official and visit qradio.com/ulstergaa