Young GAA Volunteers inspired by Good Friday Agreement celebrations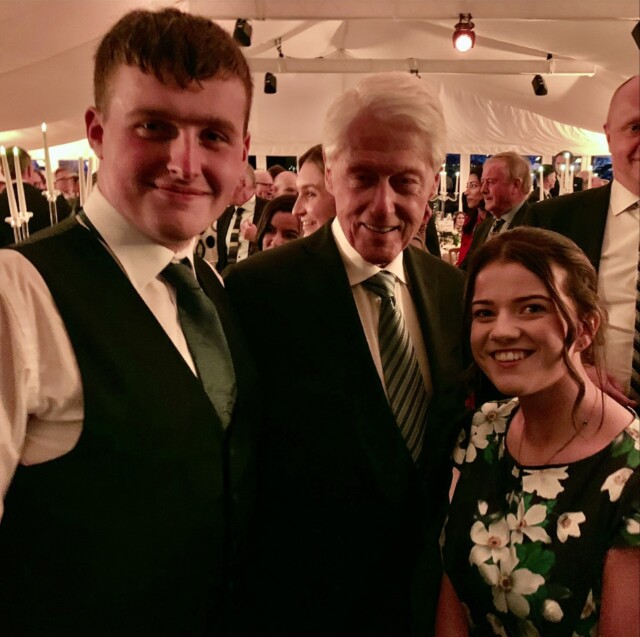 Two young GAA volunteers represented Ulster GAA at the State Dinner last week at Hillsborough Castle to mark the 25th anniversary of the Good Friday Agreement.Ben Lock, from St Peter's Warrenpoint GAA and Cabrini Brown from East Belfast GAA were selected to represent Ulster GAA for their active participation in a number of Ulster GAA programmes and for their volunteering contribution to their clubs. The two young GAA members met a number of leading figures who were influential in bringing about the Good Friday Agreement including former US President Bill Clinton. Speaking after the event, Cabrini said, "I feel very honoured to have had the opportunity to attend this special event with so many influential people to mark the Good Friday Agreement.  Through the GAA I am able to make a positive impact on my community and it's great to see the impact of sport and volunteering being recognised in peacebuilding and bringing various communities together." Ben Lock said, "I wasn't born when the Good Friday Agreement was signed but I feel very grateful to all those involved who took the courage steps towards peace which has resulted in my generation growing up in better times. It is a great honour to attend this special event on behalf of Ulster GAA, it is something I will always remember. I am inspired to continue volunteering in the GAA and play my part in building a strong community."
Cabrini joined the East Belfast club when it was formed in May 2020. She comes from a non-traditional GAA background in East Belfast & she initially joined to give Camogie a try and quickly became an integral part of the camogie panel and since then has thrown herself into all aspects of the club. She has taken on the role of the Camogie lotto co-ordinator & she takes responsibility of broadcasting the lotto draw monthly on the club's Facebook page. The club started their underage teams in April of 2021 and one of the first to volunteer was Cabrini. She gives up every Saturday morning to coach the U-5 kids and the children love the energy & kindness she brings to each session. She assists at summer camps and is coaching officer for the Camogie committee and recently completed her foundation coaching award. Not only does Cabrini volunteer many hours, but she goes over and above to make her club a better place for everyone.
Ben is a very willing GAA volunteer at St. Peter's GAA Club Warrenpoint and makes a significant contribution to club life. Whilst Ben plays hurling, his leadership contribution goes far beyond the field of play, and he is a very obliging volunteer who has gained the respect of peers and club members. He is involved in coaching hurling in the local primary school as well as his club U-13 team. He provides support back up at club senior hurling games for duties such as scoreboard operator and umpire. He recently qualified as a referee and has taken charge of underage camogie and hurling games on behalf of the club. He is an all-rounder in terms of his volunteering and willingness to help out. Ben has participated in Ulster GAA's Young Leaders programme and is working towards his Bronze accreditation in the Gaisce/Duke of Edinburgh award. Young volunteers like Ben are rightly recognised for the work that they do in their local clubs and communities – giving their time for the benefit of others.
Ben and Cabrini represent the young GAA volunteers across Ulster who are involved in volunteering in their club and linked in with Ulster GAA through various programmes including Ulster GAA Young Leaders, OCN Leadership, Multi-Sport Youth Forum, Multi-Sport volunteering, Schools Roadshows, and Gaisce/Duke of Edinburgh Award.
Any young person interested in getting involved in any of these programmes or any club wishing to learn more should contact sharon.haughey.ulster@gaa.ie