Ulster GAA Young Leader picks up June Translink Young Volunteer of the Month award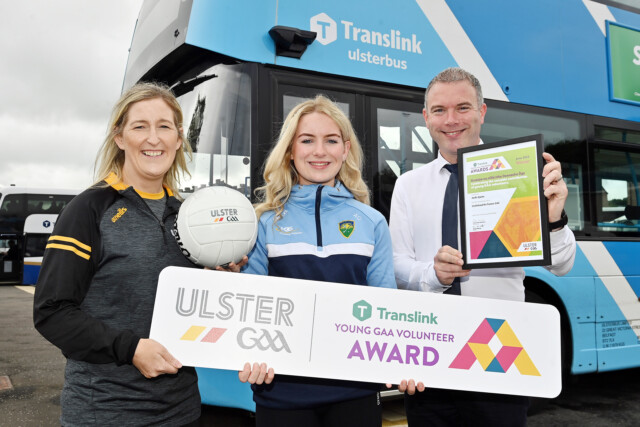 Seventeen-year-old Aoife Quinn from Coalisland Na Fianna club in Co. Tyrone has been awarded as the Translink Ulster GAA Young Volunteer of the Month for June 2023.
The award is presented each month to one young volunteer whose efforts best demonstrate the volunteering ethos and community spirit of the GAA.
Last year, Aoife successfully completed Ulster GAA Young Leaders Programme and attained her GAA Safeguarding and Foundation Coaching Award, which she put this to good use this summer by volunteering at Tyrone Club Summer Camps.
In June, she volunteered at a joint event by Ulster GAA, Irish FA and Ulster Rugby which brought together teams from each sport to play an inclusive 'Game of Three Halves', where she played a pivotal role on the events team.
Presenting Aoife with her award, Ulster GAA PRO Michael McArdle said: "It's great to see young people like Aoife who have come through the Ulster GAA Young Leaders Programme giving back in their club and county, and inspiring other young people to be their best.
"Aoife's willingness to step up and volunteer at events is truly inspiring. At the Inclusive Game of Three Halves, she played a pivotal role in assisting the participants to ensure they enjoyed the event."
Speaking after volunteering at the Inclusive Game of Three Halves, Aoife said: "I thoroughly enjoyed getting involved in this event, which was a very new experience for me working closely with people with disabilities. It was brilliant to see the inclusivity across different sports within one venue, as well as the enthusiasm and strong personalities of the participants at the event. I was amazed by the strong support and community ethos within the clubs and I am delighted to have been involved in a project which provided so much enjoyment and enrichment for everyone involved."
Commenting on Aoife's accolade, Dermot McGirr, Service Delivery Manager at Translink, said, "We are always amazed by the good work young people are doing volunteering through their involvement within their local GAA clubs.  June is always a very busy month for young people finishing up at school, many doing exams and their games schedule at full throttle. It is remarkable and inspiring that young people in the midst of all of this can still give their time and skills to help at events to make it a great experience for everyone. We're proud to support this initiative and champion the work and efforts of young people like Aoife who play an important role in keeping communities connected through sport and volunteering."
Applications for the August Young Volunteer of the Month award are now open. To nominate a young person aged 14-24 for the accolade, visit ulster.gaa.ie/youngvolunteeraward.