Business of sport in spotlight at Business Leadership event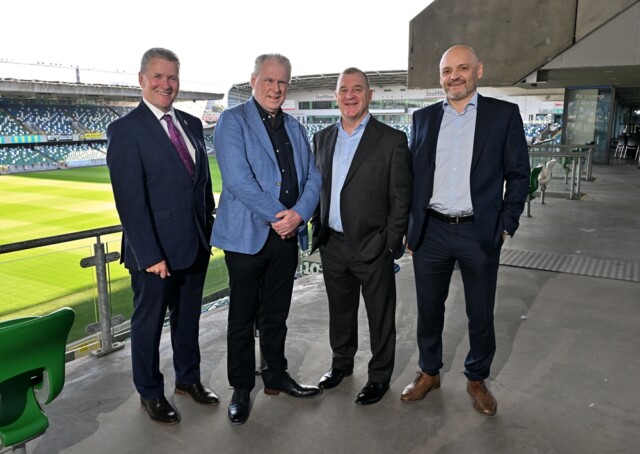 The business of sport was the discussion topic at a breakfast event in the National Football Stadium at Windsor Park yesterday.
NFS Events, the conferencing and events arm of the Irish Football Association, hosted the breakfast as part of its 2023 Business Leadership series, in association with currency risk management specialist, Alpha Group.
Ulster GAA Provincial Secretary/CEO, Brian McAvoy, and Irish FA Chief Executive, Patrick Nelson, were the key speakers.
The pair shared their insights and experiences on the challenges and successes of life in the sports industry, how to lead successful teams and what lies ahead for the future of sport.
The event was hosted by Rob Hartnett from Sport for Business, the networking organisation which builds links between sport and business across the island of Ireland.
Guest speaker on the day was Professor Johnny Moore, Consultant Ophthalmic Surgeon and Clinical Director of Cathedral Eye Clinic, which sponsors the Irish FA, Ulster GAA and Ulster Rugby. As part of a Q&A session, Johnny discussed the links between the Clinic's work and the local sporting landscape.
Brian McAvoy discussed a range of topics including the latest on the Casement Park development project, the growth of streaming in the GAA, including GAA GO and Ulster GAA TV, the integration of the three Gaelic Games associations, and his outlook for an exciting Ulster Senior Football Championship in 2024.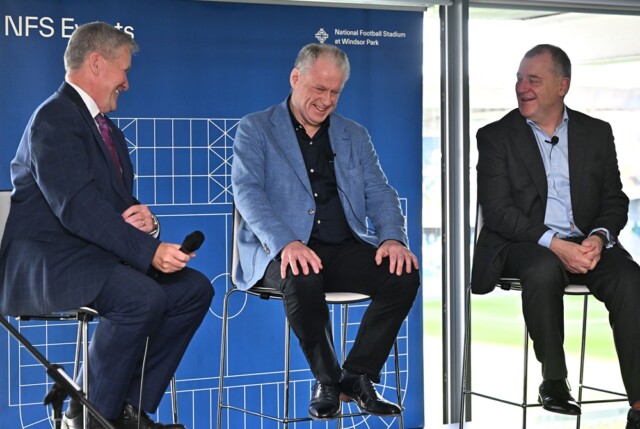 Patrick Nelson discussed the UEFA Euro 2028 bid by the UK and Ireland and how a successful outcome would bring considerable social benefits to island of Ireland. He felt hosting Euro 2028 matches at Casement Park in Belfast would encourage people to play sport in general, not just football but Gaelic games, rugby and other sports, too.
Nelson talked about the excellent working relationship between the Irish FA and the GAA, and in particular, the work that enabled Casement Park to be part of the UK and Ireland bid for Euro 2028.
Rob Hartnett closed off with a message to business figures in the room. He said: "There is so much good work happening in in the province and I encourage all of you to utilise this to help strengthen your own messaging. Sport is a great medium to do this."