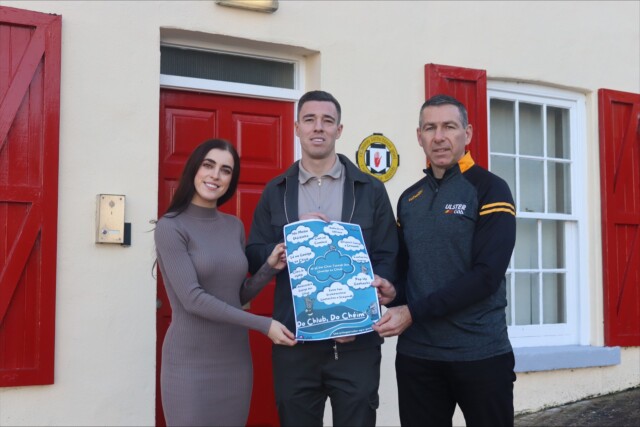 Ulster GAA today launched the '10 Steps forward for Irish in the Club' initiative with Antrim footballer and Gaeilgeoir Declan Lynch present.
'10 gCéim chun tosaigh don Ghaeilge sa Chlub' are small practical steps that could be taken to ensure a more visible and central place for the Irish language in the club. The ten steps include the following:
Appointment of an Irish Language and Culture Officer in the club
Registration with the Joe McDonagh Foundation
Display Irish language signage in the club
Irish on the club's social media
Organise a conversation circle
Organise a pop-Up Gaeltacht
Display the words of Amhrán na bhFiann in the club
Give information on Gaeltacht scholarships to club members
Appoint an Irish language Ambassador to the club
Organise an Irish Language Day in the club
What steps will your club be taking?
This is a GAA awareness campaign in conjunction with Ulster and Munster Irish Language and Cultural Officers. The '10 gCéim chun tosaigh don Ghaeilge sa Chlub' poster can be downloaded below. DO CHLUB! DO CHÉIM!
Sheol Declan Lynch, Peileadóir Aontroma, an feachtas feasachta '10 gCéim chun tosaigh don Ghaeilge sa Chlub', 7ú Samhain 2023.
Is éard atá sna céimeanna seo ná céimeanna beaga praiticiúla a d'fhéadfaí a thógáil chun áit níos feiceálaí agus níos lárnaí a chinntiú don Ghaeilge sa chlub. I measc na deich gcéimeanna, tá na rudaí seo a leanas:
Oifigeach Gaeilge agus Cultúir a cheapadh sa chlub
Clárú le Fondúireacht Sheosaimh Mhic Dhonncha
Comharthaíocht Ghaeilge a chrochadh sa chlub
An Ghaeilge ar mheáin shóisialta an chlub
Ciorcal comhrá a eagrú
Pop-Up Gaeltacht a eagrú
Focail Amhrán na bhFiann a chrochadh sa chlub
Eolas faoi scoláireachtaí Gaeltachta a scaipeadh ar bhaill an chlub
Ambasadóir Gaeilge a cheapadh don chlub
Lá na Gaeilge a eagrú sa chlub
Cá mhéad céim atá á thógáil ag do chlub?
Feachtas feasachta é seo de chuid CLG i gcomhar le hOifigigh Ghaeilge agus Chultúir Uladh agus na Mumhan. Is féidir an póstaer '10 gCéim chun tosaigh don Ghaeilge sa Chlub' a íoslódáil anseo thíos. DO CHLUB, DO CHÉIM!
Cuir scéal chuig Niamh.mcelduff.ulster@gaa.ie