Programmes for the Ulster Football Championship 2021 can be downloaded for FREE here on a game by game basis.
Make a Donation to Prostate Cancer Research
We would appreciate if you can support our chosen Charity Partner by making a donation to Prostate Cancer Research by clicking on the link here.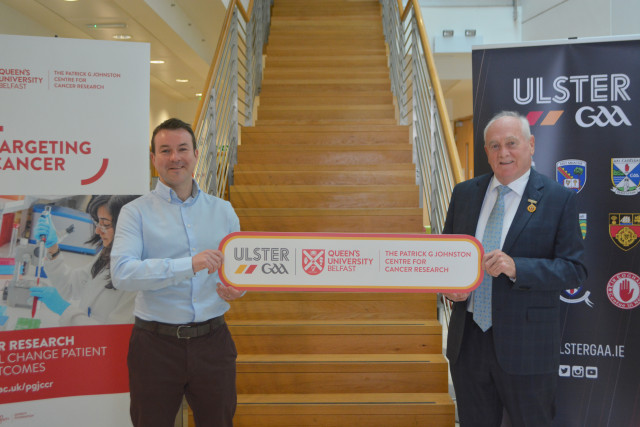 Over 4,500 men in Ireland are diagnosed with prostate cancer every year. In the UK, prostate cancer deaths have exceeded breast cancer deaths for the first time, with over 11,000 men per year dying of aggressive forms of prostate cancer. At present, 1 in 8 men will develop a clinically significant prostate cancer in their lifetime, with an increased risk for those aged 50 or more (the majority of cases are diagnosed in men aged 65+) or with a family history of prostate cancer.
Prostate Research at Queen's University Belfast
The Prostate Clinical Research Team at QUB comprises a team of Clinical Research and NHS Consultant Oncologists, coupled with expert scientific research from the Patrick G Johnston Centre for Cancer Research. The team's ethos is to improve patient care through world-class clinical trials of new treatments. The Prostate Clinical Research Team is internationally renowned, leading the way in innovative trials which have improved treatment for many men, increased survival rates and reduced the side effects from treatment. In addition to improving education for patients and healthcare workers, the team supervise research from medical students, scientists, physicists and clinical doctors to sustain a culture of ongoing excellence in prostate cancer research. The team is dedicated to ensuring that our patients and their families have the best treatments at the correct time and that survival rates continue to improve for men diagnosed with prostate cancer.
You can support the fundraising efforts by visiting Ulster GAA's JustGiving page here
Senior Football Programmes
Minor Football Programmes
U20 Football Programmes