Cummins makes it 3 in a row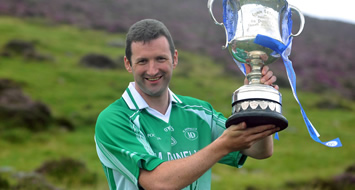 Brendan Cummins won his fourth M Donnelly All-Ireland Poc Fada title in five years and his third in a row in a highly competeive competition held on Annaverna Mountain Cooley today. GAA President Elect Christy Cooney was on the mountain to present the Tipperary hurler with his All Ireland Corn Setanta Trophy. Brendan also won the All Irelannd Pairs Poc Fada Fada title along with Clare hurler Brendan Mc Namara.
Derry's Ruairi Convery came second with a very credible 56 Pocs, whilst Brendan McNamara pipped Galway's James Skehill and Wexford's Damien Fitzhenry for third after they all finished on 57 Pocs. Dan Mc Auliffe from Milwaukee USA recorded a fine score of 64 Pocs .
Brendan Cummins 54
Ruairi Convery 56
Brendan Mc Namara 57 and 90 Mtrs
James Skehill 57 and 35 Mtrs
Damien Fitzhenry 57 and 24 Mtrs
Shane O'Connor 58
Adrian Power 60
John Garrett 61 and 52 Mtrs
Davy Fitzgerald 61 and 48 Mtrs
Jason McManus 61 AND 30 Mtrs (replaced Graham Clarke)
Fintan O'Brien 62
Dan McAuliffe 64
Eamon Murphy of Waterford won the under 16 Poc Fada Final and Lyndsey Condell of Carlow secured the M Donnelly All Ireland Poc Fada title for the second year in a row.