Red Hands earn Final berth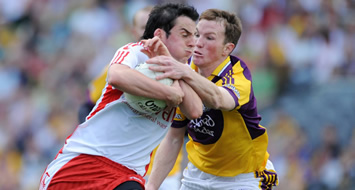 All-Ireland SFC Semi-Final:
Tyrone 0-23 Wexford 1-14
The beards will stay until the end of September. Tyrone did what was needed and ended Wexford's fairytale championship run. In the end their lack of experience told – and maybe the lack of scoring forwards in the absence of the injured Matty Forde, whose afternoon was over by half-time.
And so Tyrone, who looked like beaten dockets after losing to Down in Newry in the Ulster Championship, will take on Kerry in the All-Ireland final at the end of the month, buoyed by their renaissance in the last few weeks and safe in the knowledge that the Kingdom have been usurped in the final twice in the last decade.
Their performance lacked the verve that propelled them to a 23-point win over Dublin, but the same all-action style of football Mickey Harte has nurtured was again in evidence.
Satisfaction can be gleaned from the spread of scores throughout the team, with seven points coming from players with number seven or less on their backs. Harte made a tough call by dropping Brian McGuigan and bringing in Martin Penrose at centre-forward. Penrose finished with 0-3 and his excellent overall contribution was justification for the switch.
There were worries for Harte too, though, as Sean Cavanagh, the brilliant Tyrone forward, dislocated his finger and damaged his back in a second-half collision. Brian McGuigan was forced off with an eye problem, but the early indications are that it is nothing as serious as the damaged retina that forced him out of the game for over a year.
Wexford contributed handsomely to a game that was surprising in its competitiveness. They fell short, but manager Jason Ryan kept his side in a huddle long after the final whistle had blown to suggest that this side were not a flash in the pan, but a young group of players ready to rightfully trade blows with football's big guns after years of shadow boxing.
"To a certain extent, you can put some of it down to experience," said Wexford boss Ryan. "It didn't feel like the players were very nervous, but it's the biggest stage they have played at.
"The players there, the most important games they would have played, you are looking at some of them playing county finals, some of them played in schools' finals, Division Three National League Final and one Leinster final so there is a severe lack of experience.
"So they will have learned an awful lot from that. From a management perspective, we would be hoping that this will make them hungry, very, very hungry for something more in the future."
After an early shellacking, Wexford stared up at a sheer cliff face. Nine points down after 28 minutes, they established an early toehold and just kept on climbing. Ciaran Lyng, who finished with 1-6, edged them closer to the summit with a goal on 49 minutes – a thing of sheer beauty. The former Preston soccer star ghosted past Colin Holmes with an incredible burst of pace and he cut a swathe through the Tyrone attack before launching the ball to the top corner. He added a free a minute later and suddenly it was a two-point game.
But Tyrone hit back with three unanswered points and the Wexford challenge was sunk. Perhaps their challenge was up much earlier than that. Brian Malone was once again employed as a sweeper in front of the Wexford defence, but the gambit backfired and Jason Ryan was forced to rejig his defence after 15 minutes. The damage had already been done, though, as Tyrone were 0-8 to 0-2 ahead.
Wexford had no answer to Tyrone's ability to raid from deep inside their own half, a tactic that served them well against Dublin. Ryan McMenamin, Philip Jordan and Davy Harte all appeared to have been granted the freedom to move anywhere, with Harte and the bearded McMenamin switching places frequently to leave the Wexford players flummoxed. The ploy had the effect of forcing the Wexford forwards to mark the backs rather than the other way around.
The Tyrone gameplan was neatly surmised on 28 minutes when Colm McCullagh, named in the inside forward line but frequently found out near the midfield, came deep for the ball and passed it inside to the charging Enda McGinley who popped over the point that left Wexford nine points down. Cavanagh, too, was making hay just in front of the Tyrone inside forward line and David Murphy was helpless at times as the former All Star midfielder monopolised possession to help his side to a 0-14 to 0-6 at the break.
There was further bad news at half-time when it emerged that an ankle injury had put paid to Forde's afternoon. But credit to Wexford, as they chipped away at the Tyrone lead and reduced the gap to two points after Lyng's wonder goal.
Ultimately, however, this Tyrone side came good in the final ten minutes, with Penrose, Tommy McGuigan and the unusually quiet Brian Dooher putting the finishing touches on a six-point win.
Tyrone: J Devine; R McMenamin, J McMahon, C Gourley; D Harte, C Gormley, P Jordan; C Holmes; E McGinley; B Dooher, B McGuigan, Joe McMahon; T McGuigan, S Cavanagh, C McCullagh.
Scorers for Tyrone: S Cavanagh 0-4 (0-2f), T McGuigan 0-3 (0-1f), C McCullagh 0-4 (0-2f), M Penrose 0-3, B Dooher 0-2, R McMenamin 0-2, D Harte 0-1, P Jordan 0-3, E McGinley 0-1.
Subs: B McGuigan for S Kavanagh '50, K Hughes for C Holmes '51, O Mulligan for B McGuigan (blood sub) '70, C Cavanagh for C McCullagh '71.
Wexford: A Masterson; D Walsh, P Wallace, B Malone; A Morrissey, D Murphy, C Morris; E Bradley, B Doyle; PJ Banville, R Barry, C Byrne; C Lyng, P Colfer, M Forde.
Scorers for Wexford: P Wallace 0-1, A Morrissey 0-1, C Morris 0-2, PJ Banville 0-1, C Lyng 1-6 (0-3f), P Colfer 0-1, A Flynn 0-1, S Roche 0-1.
Subs: C Deely for C Byrne '32, N Murphy for A Morrissey '43, A Flynn for P Colfer '60.
Referee: Pat McEnaney (Monaghan)
Attendance: 65,252