2009 Ulster Coaching Conference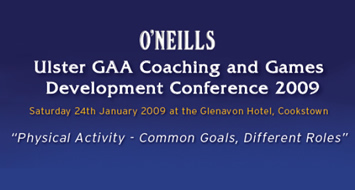 This year the Ulster GAA Coaching Conference is targeting coaches who workin the nursery and juvenile sections of our clubs. This is a very important area within our clubs. It is at this stage of the young player's development that the right building blocks are set down for their future progress and development.
The title of the Conference "Physical Activity, Common Goals, Different Roles" was used at the National Coaching and Training Centres 8th National Forum in 2005. This has become very relevant in Ulster as we have moved forward in recent years. Clubs are now running nursery sessions with under 6's and fundamentals up to Under 8 and 10 with more sports specific activity up to under 12 and 14. The Minister's Sport in Schools programme is delivering physical literacy to Foundation and Key Stage 1 pupils (up to primary 4). Teachers in the Schools also have a responsibility for delivering the new curriculum and embedded in this is the Fundamental Movement Skills Programme (FMS) being delivered by the Education and Library Boards.
The Conference explores how all stakeholders have a common goal, the physical literacy and health of our young people and the development of better technical and tactically aware children and youth who feed into our Gaelic Games.
As we move forward the "what" we coach becomes increasingly important. Of equal importance is the "how" we coach – as the coach / player interaction often influences the young persons' future involvement in our games. We are joined by some of Irelands leading coaches and educationalists who will share their expertise, knowledge, ideas and concerns as we "strive to meet the needs of the future generation of GAA players in Ulster".
The conference attendance is limited to 350, and places will be distributed on a first come first served basis.
The cost of attending this one-day event is £20 / €25 per person, and you must pre-register, by contacting Bernie Mc Glinchey on 028 37 521900, or email at bmcglinchey@ulster.gaa.ie
The deadline for registration is: Monday 19th January at 4.00pm.
Related: