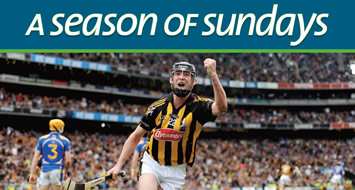 From Páirc Bharróg, Kilbarrack, in January to Croke Park in September, the often brutal, muddy start to a season's hopes, to the heartache and joy of a season end, the expectations and dreams of players and fans, the task faced by the managers, new and experienced, A Season of Sundays yet again beautifully chronicles the world we inhabit from weekend to weekend throughout the year, capturing the essence of what makes the GAA part of what we are.
The book, sponsored by Carroll Cuisine, was officially launched by Uachtarán Chumann Lúthchleas Gael Criostóir Ó Cuana, in the company of Kilkenny hurler Martin Comerford, who graces the cover of the 13th edition of the book.
The epic starts as Anthony Daly and Pat Gilroy take charge of their Dublin sides "pushing off into the uncharted waters of a new season" and ends with Cork captain Mary O'Connor pointing out that Kilkenny still have some work to do "Kilkenny Hurlers, we'll see your four and raise you one".
Among the 172 pages of this year's tome are stunning images of the GAA 125 celebrations in Croke Park on January 31st,  Mayo fan's creation of  "Hill 17"  in Ballina and they also take you beyond the dressing room doors with a unique visual insight into the men at the helm, the 2009 Football managers.
Brought to life by the prose of journalist Tom Humphries, and peppered with quotes from players, managers and media, this book is a must for every GAA fan.
Speaking at the launch, Sportsfile's Ray McManus said "I am delighted on behalf of the Sportsfile team to present this, our thirteenth edition. We are both proud and honoured to be able to take a moment in time and preserve it so it can be examined not just now, at the end of a season, but in years to come, as part of what we were, the times we lived in, and the things we enjoyed"
McManus also paid credit to the book's long term supporter, Carroll Cuisine "Like all teams, A Season of Sundays enjoys the backing of a sponsor, and we have the longest team supporter in the land, Carroll Cuisine. I thank them for their valued support"
Brian O'Casey, Managing Director, Carroll Cuisine said "Carroll Cuisine have supported the GAA for many years. We are the longest running sponsors of any county in Ireland and have supported A Season of Sundays in their journey for many years.  Like you, we are on the same journey from January to September.  It was a season of glorious Sundays from start to finish and we at Carroll Cuisine are proud to have supported that journey all the way"
GAA President Christy Cooney said: "This annual collection of photographs paints a vivid picture of our season year in year out and it's a publication that is keenly awaited by so many ­ and for good reason".
A  Season of Sundays is an official GAA publication, published by Sportsfile and supported by Carroll Cuisine.  It is distributed by Eason's and is available in all leading bookstores priced €29.95 or on the Sportsfile website http://www.sportsfile.com/id/SeasonOfSundays09/5002/