Coach Education Programmes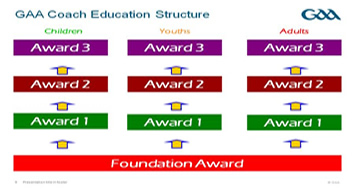 The Ulster Council Coach Education Programme continues to evolve as we move into autumn/spring 2010/11. In Ulster we have over one hundred tutors who are trained to run courses up to and including level 1. Additionally we have 10 Tutors Trainers who can deliver Tutor Training courses as well as Level 2 Award at Children, Youth and Adult level.
Coaching Ireland (CI)
CI is the accrediting body for the GAA Awards and Tutors.
It is also responsible for the training of tutor trainers
CI carries out the role of Quality Assurance of all courses. This includes all aspects from course registration, approval, certification and training of tutor trainers. All courses must be approved in advance and receive a course code from Coaching Ireland.
Ulster GAA Coaching & Games
Ulster Council Coaching & Games have re-organised the delivery of Level 2 Coaching Courses into 3 regions throughout the Province.  Tutor Trainers have been allocated to each region with responsibilities to run out level 2 courses as well as to mentor the tutors in their respective regions. We have just completed 3 Level 2 Youth/Adult Courses at venues in each of the 3 regions.