Three in a row for dominant Cavan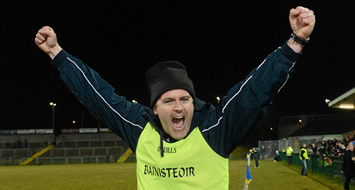 Cadbury Ulster U21 Football Championship Final:
Cavan 0-13 Donegal 1-6
Cavan made history in Brewster Park on Wednesday night as they won their third Ulster U21 Football Championship title in a row with a four-point victory over Donegal.
It is the first time Cavan have won the Ulster U21 Championship three times in a row, and is the first three-in-a-row a Cavan football team has won since the great senior team of the late 1940s, which won Ulster titles in 1947, 1948 and 1949.
They always looked the more likely winners against a disappointing Donegal side, and although they never really dominated their opponents on the scoreboard, they controlled possession and had a healthy lead from the very early stages.
Cavan raced into an early 0-3 to 0-0 lead, Chris Conroy, Enda O'Reilly and Gerry Smith all pointing in the opening minutes. Donegal were really struggling to create scoring chances, but they did manage to carve out the only two real goal chances of the first half, spurning both.
The first was when their marquee forward Patrick McBrearty fired wide with his right foot, and the second chance fell to Willie Gillespie, who turned inside brilliantly before flashing his effort wide.
Cavan led 0-4 to 0-1 with 10 minutes of the first half to go, and they hit three of the final four points of the half, through Conroy, O'Reilly and Smith, to lead 0-7 to 0-2 at the interval.
Donegal badly needed a goal to lift their flagging effort after the restart, and they managed to get it a few minutes into the second half, with Gillespie flicking to the net after a long ball from McBrearty dropped short.
That made it 0-8 to 1-2, but Cavan quickly re-established a five-point lead with points from Jack Brady and Conroy. McBrearty was beginning to grow in influence for Donegal, and he kept them in touch with a couple of points, but Cavan led 0-11 to 1-3 with less than 15 minutes to go.
Cavan were beginning to get a little nervous as the finish line loomed, and three McBrearty points without reply suddenly cut the gap to two points with seven minutes to go. However, Cavan stemmed the tide with a free from Jack Brady, and Paul Graham sealed the win with a late point.
Cavan will play Munster champions Cork in the All-Ireland semi-final on April 20.