Ulster GAA & Translink launch new initiative to recognise young volunteers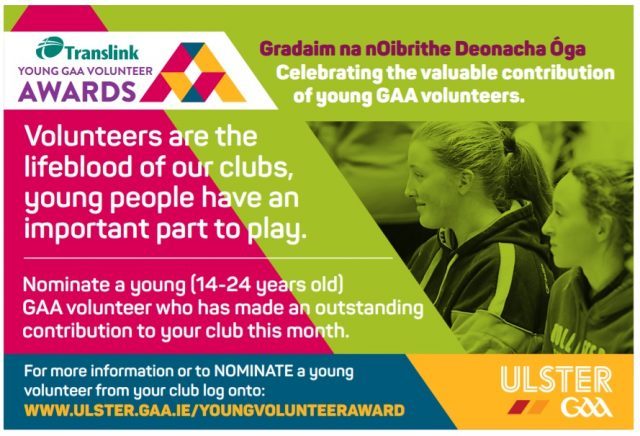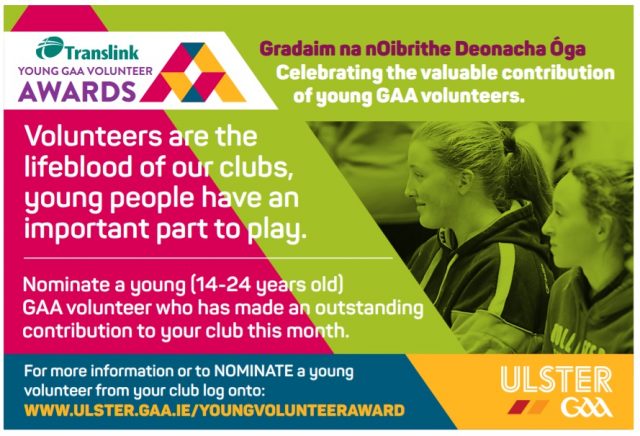 The Translink Ulster GAA Young Volunteer Award is a new scheme designed to celebrate the important contribution young members of the association make to their clubs and communities.
Gaelic Football, Hurling, Camogie, Rounders and Handball clubs across Ulster are encouraged to nominate young people aged 14-24 years old, whose actions best demonstrate the volunteering ethos and community spirit, for the monthly award.
Translink was recently unveiled as a new corporate sponsor of the Ulster Gaelic Athletic Association; a relationship which will see the public transport provider become a leading player in Ulster's Gaelic games at all levels, and in particular supporting volunteer and coaching initiatives.
Launching the new volunteer award at Killeavy GAC, County Armagh, Translink Ulsterbus Inspector Gerry Darcy said:
"The GAA is an important part of many local communities that we serve and we are delighted to partner up on this new awards scheme. We're particularly pleased that the Volunteer of the Month Award will recognise the time, talent and commitment demonstrated by young members for their club.
"We met some inspiring young people in Killeavy today; a club which is widely recognised as having some of the most committed volunteers around. I've no doubt that over the coming months, we will uncover many more dedicated young people – we look forward to hearing their stories and celebrating with them throughout the year."
Encouraging people to get nominating, All-Star and former Armagh Inter-county player Steven McDonnell commented:
"From playing to coaching, fundraising and caretaking, young people are both the backbone and the future of the GAA. The awards are an ideal way to recognise the input our youth members make and let them know how valued and appreciated their efforts are. I see first-hand the difference they make at my own club here in Killeavy. We're delighted that Translink recognises this too and I would encourage clubs across the province to nominate as often as they possibly can."
To nominate someone for these awards, please download a nomination form here.
Submissions are invited to celebrate young people who have made an outstanding contribution to their club during each month. The nomination process opens on the 20th of each month and closes on the last day.
Each monthly winner will receive a certificate presented by Ulster GAA and Translink, as well complimentary Enterprise Class travel for 2 to Dublin, courtesy of Translink.
An overall Translink Ulster GAA Young Volunteer of the Year will be awarded at the end of the season & the winner will receive a free set of jerseys for their club.
For further information on the Translink Young GAA Volunteer Award please contact Sharon Haughey-Grimley on 02837 517 180 or email sharon.haughey.ulster@gaa.ie