Disappointing end for Ulster Sides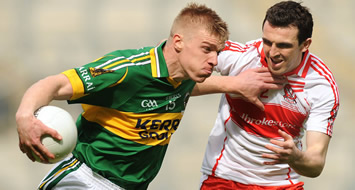 Allianz NFL Division 1 Final:
Kerry 1-15 Derry 0-15
Kerry claimed their third Allianz National League title – a record 19th in total – under boss Jack O'Connor with a three-point win over Derry in the Division One final at Croke Park on Sunday.
In doing so, they gained a measure of revenge over Derry, who beat them in last year's final. Kerry, of course, were under different management back then, but now look best placed to challenge All-Ireland champions Tyrone after an unbeaten league campaign that threw up a number of new faces and potential stars.
For Damian Cassidy, the Derry manager, the defeat will not be met with complete disappointment as league titles have never been a harbinger of success later in the year in the Oak Leaf County. His side competed well throughout; indeed they looked the more potent side in the opening quarter until their talisman, Paddy Bradley, was forced off with blurred vision after 23 minutes.
The Derry full-forward did re-appear later in the game, but his influence was not what it might have been, with the scoring burden transferring over to his brother, Eoin, who top-scored for his side with five points.
Kerry will take comfort from the fact that they won pulling up in the end, but they were far from their best in a disappointing game. They scored the only goal of the game and it proved the difference between the sides in the end. Donncha Walsh, who started for the Kingdom at wing-forward in place of Paul Galvin (groin strain), latched onto a superb pass from Michael Quirke and fired home after just nine minutes.
There was little in the game until the final quarter, when substitute Bryan Sheahan scored three late frees. Indeed the winning margin could have been even greater, but Colm Cooper, the stand-out player on the day with six points (0-3f), opted to pop over a point that left four between the sides when he might easily have goaled after Sean O'Sullivan's fisted effort had come back off the post following the Cromane man's fine run.
Derry had established an early two-point lead. Inevitably, it was Paddy Bradley who scored the first point of the game. He beat Tom O'Sullivan to a quick ball into the Derry attack and swung the ball over the bar over with ease.
Chrissy McKaigue, a late addition to the Derry attack, doubled their lead after Tommy Walsh was guilty of hitting two early wides for the Kingdom. It need not have mattered as a goal followed after just nine minutes.
Michael Quirke fielded a high ball on the edge of the square and the basketball star transferred the ball immediately to Donncha Walsh, who side-footed delightfully past Barry Gillis to give Kerry the lead. Eoin Bradley then levelled the game with his first of the day, the Bradley brothers already threatening to run riot in attack.
Tomás O Sé nudged Kerry ahead again before Paddy Bradley responded with a free. The football was open and the scores came thick and fast in what was the last game under the experimental rules.
Cooper chipped in with a trademark catch and shot on the run, before Declan O'Sullivan, who shrugged off an injury to take his place in the team, saw his effort come off the inside of the post and sneak over to put Kerry 1-3 to 0-4 ahead after 17 minutes.
Derry were dealt a cruel blow after just 23 minutes, when Paddy Bradley was forced off the field through injury. Minutes earlier, he landed heavily after crashing into his brother, Eoin, when contesting for a loose ball. James Kielt, the rising star of Derry football, was brought into the Derry attack in his place.
Tommy Walsh put Kerry's next score on a plate for Cooper after the Young Footballer of the Year won a high ball and fed his partner in crime in the inside forward line. The Kerins O'Rahilly's man was causing havoc by now and could have grabbed a second goal for Jack O'Connor's side but took the sensible option and blasted over after getting the better of Kevin McCloy.
Kerry seemed to be playing within themselves and every time they looked like stretching ahead, they allowed the Derry attack the space and time to fashion scores. Paul Murphy profited from some slack marking after 31 minutes, the centre-forward finding his range with his left foot to level the game.
Cooper and Walsh were on target again for Kerry, before Eoin Bradley had the last say in the first-half, grabbing his fourth point of the half – his second from play – to leave Derry trailing 1-7 to 0-9 at the break.
The second half took some time to catch fire, mainly due to a number of injuries on each side. Michael Quirke, the Kerry midfielder, took a heavy knock and was forced off, with Darragh O Se coming on in his place after 42 minutes.
Derry were given an unexpected boost when Paddy Bradley re-appeared and came on in place of Brian Mullan. All the stoppages took the edge off the game and we had to wait almost seven minutes before Cooper grabbed the first score of the half – a free kick after Kevin McCloy had barged into Donncha Walsh.
Tomas O Se edged Kerry three points clear with his second point of the game after Cooper had found cleverly spotted the wing-back's run and delivered a precise foot pass into his path. The Kerry crowd were given a further boost when Tadhg Kennelly was introduced for his first appearance in a Kerry jersey – the realisation of a dream for the Listowel man after his late father, Tim, had graced the Jones's Road venue so many times in the past.
Enda Lynn and Mark Lynch reduced the deficit for the Oak Leaf with a pair of scores from play inside a minute. Cooper and Lynch traded frees and Kerry led by a point, 1-10 to 0-12, with 13 minutes left.
Bryan Sheahan, who was by now on as substitute, took over the free-taking duties and he kicked two points from frees, with Lynch, once again, responding for Damian Cassidy's side.
But Kerry, who brought Daniel Bohane and Aidan O'Shea on late in the game, started to pull away in the final minutes. Aidan O'Mahony popped up from centre-back to finish off a move in which Kennelly and Sheahan were heavily involved.
Kennelly had already proven his worth to the Kerry cause when, minutes earlier, he was taken down after a powerful run and Sheahan had pointed from close range. Sheahan and Seamus Bradley traded scores before Cooper, a menace at corner forward all day, had a glorious goal chance, but used his head to leave four points between the sides.
Eoin Bradley did score a late point from play – his fifth of the match – but it was to be the Kingdom and Jack O'Connor's day.
Kerry: D Murphy; P Reidy, T O'Sullivan, K Young; T O Se (0-2), A O'Mahony (0-1), T Griffin; A Maher, M Quirke; D Walsh (1-0), Declan O'Sullivan (0-1), Darran O'Sullivan; C Cooper (0-6, 0-3f), K Donaghy, T Walsh (0-2).
Subs: D O Sé for M Quirke ('42), T Kennelly for D Walsh ('46), B Sheahan (0-3, 0-3f) for D O'Sullivan ('49), D Moran for A Maher ('49), D O'Sullivan for K Donaghy ('58), D Bohane for T Griffin ('62), S O'Sullivan for D O'Sullivan ('65), A O'Shea for P Reidy ('72).
Derry: B Gillis; K McGuckin, K McLoy, G O'Kane; P Cartin, B McGoldrick, S L McGoldrick; F Doherty, J Diver; E Lynn (0-1), P Murphy (0-1), C McKaigue (0-1); E Bradley (0-5, 0-2f), P Bradley (0-1,), M Lynch (0-4, 0-3f).
Subs: J Kielt (0-1, 0-1f) for P Bradley ('23), P Bradley for B Mullan ('39), D McBride for G O'Kane ('47), S Bradley (0-1) for P Murphy ('49), R Dillon for D McBride (Yellow Card '68).
—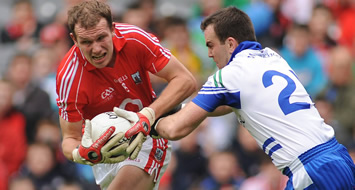 Allianz NFL Division 2 Final:
Cork 1-14 Monaghan 0-12
Cork underlined their status as the biggest potential threat to Kerry and Tyrone's All-Ireland dominance by claiming the Allianz NFL Division Two title with a comfortable five-point win over Monaghan at Croke Park on Sunday.
A powerful first-half display, which gave the Rebels a six-point lead at the interval, meant Monaghan were left playing catch-up for most of the game. Seamus McEnaney's men threatened a late revival thanks to Tommy Freeman's four second half points but a James Masters goal with five minutes left on the clock ensured that the trophy was destined for Leeside.
Once again, Cork's nascent attack proved impossible to deal with. Counihan's team are developing a reputation for playing an eye-catching brand of football and they will have won a few more fans with another stylish performance.
Daniel Goulding was Cork's main attacking threat, scoring five points and giving Dessie Mone, who was replaced after 28 minutes, a torrid time. Indeed, all Cork's forwards except Paul O'Flynn got on the score sheet while Monaghan proved utterly reliant on Finlay and Tommy Freeman.
Tommy Freeman started well, taking Anthony Lynch for a tour of the left flank of the pitch, but the Monaghan marksman, perhaps unwisely, opted to shoot from a tight angle and the ball drifted wide.
Cork got off the mark after just two minutes, when Paul Kerrigan served notice of his immense talent with a fine run down the Hogan Stand side of the pitch before slotting the ball over with his weaker foot. Goulding then put Conor Counihan's side into a two-point lead with a well-struck free from the '45 mark.
Monaghan were level a minute later when Mark Downey combined well with Dick Clerkin, turned Ray Carey and tapped over. However, Monaghan failed to build on that lead despite owning the ball in the middle of the field. Paul Finlay struck two wides inside a minute and was guilty of dropping what seemed like an easy dead ball opportunity into Alan Quirke's hands.
Cork caught the bug and were equally profligate, with Masters skewing a scoring chance into Alan O'Connor's hands before the midfielder
Cork came desperately close to scoring the opening goal of the game on 13 minutes. Nicholas Murphy snaffled the ball from a thicket of players and offloaded to Noel O'Leary, who saw Paddy Kelly steaming through on goal and fed the Ballincollig man with a clever hand pass. Just as Kelly loaded his right foot, he was foiled at the last minute by Dick Clerkin's heroic block.
Donncha O'Connor dropped over the resultant '45 and Goulding added another from play to leave Cork 0-5 to 0-1 ahead. The Rebels then missed another glorious goal chance after some neat interplay between Kelly and midfielder Alan O'Connor put the St Colm's man through on goal, but, once again, the chance was missed as the shot corkscrewed off his foot and went wide.
Grahan Canty, the Cork captain, bailed out his team-mate when he sliced through the Monaghan defence and popped the ball over for his first score of the game – one that underlined Cork's dominance in the opening minutes.
Seamus McEnaney's side were struggling badly, but Conor McManus ended a period of 17 minutes without a score when Tommy Freeman fed him on the right touchline and he sent over a sweet, curling effort.
However, the Cork attack was proving the more potent and tormented Monaghan's usually watertight defence. Michael Shields, who shadowed the roaming Rory Woods all the way out to midfield, sent an angled pass into Donncha O'Connor, who passed to Goulding. The result, as always, was the same. Goulding, Cork's biggest attacking threat, turned Dessie Mone with ease for another fine point.
The Monaghan boss was forced to take urgent action and he withdrew Dessie Mone, who was tortured by Goulding for the opening 28 minutes, replacing him with his brother, John Paul.
Ger Spillane, who raided from wing-back, added another point for the Rebels before the Farney men passed up a goal chance that would have – undeservedly, it must be said – put them tight back in the game. Damien Freeman, the Mongahan wing-back, won the ball on the '21-yard line and he found Downey, who was foiled by a brilliant Alan Quirke save. McManus slotted over the ensuing '45, but Cork, and especially Goulding were not finished just yet.
The Eire Og man drew a foul from his new marker, JP Mone and Donncha O'Connor pointed from the placed ball before the Cork number 15 rounded off a fine first-half display with another effort from play, his fourth of the half, to give Counihan's side a comfortable 0-10 to 0-4 lead.
Monaghan were first out of the blocks in the second half, with substitute Raymond Ronaghan beating Shields to a high ball, which dropped to Tommy Freeman and Monaghan's danger man beat Lynch to the ball to register his first score of the game. Finlay struck a superb free from his hands a minute later and suddenly things weren't looking so desperate for Monaghan.
They should have been. Cork's accuracy and slick forward play were but a memory in the first ten minutes of the second half. Goulding, Kerrigan and Alan O'Connor all hit wides when they really should have extended Cork's lead.
Tommy Freeman was by now getting the better of Lynch, and he beat the veteran Cork defender to a ball on 49 minutes, turned and pointed to leave just three points between the sides.
Counihan, the Cork boss, took immediate action. Pearse O'Neill and John Hayes, two vital cogs in the Rebels' run to the All-Ireland semi-final last year, were brought off the bench, with Paul O'Flynn and Donncha O'Connor hauled ashore after relatively quiet afternoons.
O'Neills's impact was immediate. The big Aghada man, so often an inspiration for the Leesiders, fisted over within three minutes of his introduction before Goulding added his fifth of the day and Paddy Kelly his first to give Cork a six-point buffer.
Damien Freeman had at that stage left the field for a yellow card offence and Monaghan were in trouble, but Finlay and Tommy Freeman gave them hope with two well-taken points inside a minute.
Monaghan threatened to mount a comeback, but this Cork side proved they are better than the hammering they took in Scotstown against the same opposition last month when they snatched the only goal of the game with five minutes left on the clock. Kerrigan, as is his wont, carried the ball along the end line and picked out Masters, who appeared to be outnumbered just outside the small square. However, the Nemo Rangers man somehow found the space to get his shot away, beating Shane Duffy with a drop-kicked effort.
Tommy Freeman and Finlay struck late points for Monaghan but the goal had broken their spirit and left them with too much to do in the closing minutes. Cork, in the end, were too strong and Christy Cooney, the new GAA President was afforded the honour of presenting the National League Division Two trophy to the captain of his home county, Graham Canty.
Cork: A Quirke; R Carey, M Shields, A Lynch, N O'Leary, G Canty (0-1), G Spillane (0-1); A O'Connor (0-1), N Murphy; P O'Flynn, P Kelly (0-1), P Kerrigan (0-1); J Masters (1-0), D O'Connor (0-3, 0-1 '45, 0-1f), D Goulding (0-5, 0-1f).
Subs: P O'Neill (0-1) for P O'Flynn ('49), J Hayes for D O'Connor ('51), F Goold for A O'Connor ('66), C McCarthy for D Goulding ('70), J Miskella for P Kelly ('70).
Monaghan: S Duffy, D Mone, V Corey, D McArdle (0-1), D Freeman, G McQuaid, D Hughes; D Clerkin, O Lennon; C McManus (0-2, 0-1 '45), P Finlay (0-4, 0-2f), S Gollogly; M Downey (0-1), R Woods, T Freeman (0-4, 0-1f).
Subs: JP Mone for D Mone ('28), R Ronaghan for S Gollogly (HT), C Hanratty for for O Lennon ('49), G McEnaney for D Freeman (Yellow Card) ('50), K Hughes for M Downey ('55), S McAleer for R Woods ('67).
—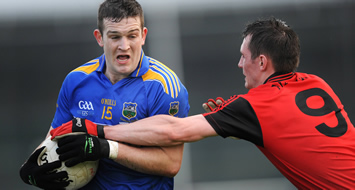 Allianz NFL Division 3 Final:
Tipperary 0-18 Down 1-14
Sean Carey was the matchwinning hero as his point in the 90th minute gave Tipperary the NFL Division 3 title after a pulsating decider in Pearse Park in Longford this evening.
The sides were level on eleven occasions in a gripping affair that required extra-time to secure an outcome. But it was Tipperary who emerged victorious with Carey punching over a point in the dying moments of the game.
Down made five changes to their starting lineup beforehand, with ace forward Brendan Coulter along with U21 duo Peter Fitzpatrick and Paul McCumiskey amongst those sitting on the bench. It was one of the players drafted in who notched the opening score of the game, Brendan McArdle converting in the 4th minute. But Tipperary responded well with James Tierney and Barry Grogan showing coolness in converting frees to push them ahead, 0-2 to 0-1 by the 8th minute.
Those scores settled Tipperary's nerves but sixty seconds later Down rocked the Premier challenge when Ronan Murtagh rolled a shot low to the corner of the net. Down built on that score by generating plenty chances but their shooting left them down. In contrast Tipperary were accurate and points by Brian Mulvihill and Tierney had the sides level 1-1 to 0-4 by the 21st minute.
Down moved back in front courtesy of captain Dan Gordon but Tipperary were moving well and could have goaled in the 25th minute, only for Barry Grogan to lash a penalty over the bar after he had been fouled by Luke Howard. Gaining confidence Tipperary went two ahead with a pair of splendid points by full-forward Brian Coen. Yet by the interval the Mourne men had regained parity once more, thanks to pointed efforts from Murtagh and Aidan Carr.
The tight nature of the game continued early in the second-half. Aidan Carr tapped over a 40th minute free for Down but a lovely score by Brian Mulvihill for Tipperary levelled it again. Brian Coen landed his third point of the match to put Tipperary in front but a Conor Magee score tied the sides at 1-6 to 0-9 by the 45th minute.
However Tipperary then took over and enjoyed a purple patch in front of goal. Substitute Damian O'Brien, Tierney and wing-back Christopher Aylward all found their range to send the Premier county 0-12 to 1-6 ahead by the 54th minute. Down's reply was instant Dan Gordon and Daniel Hughes blasting points to reduce the gap down to one, and centre-forward John Boyle left them locked together 1-9 to 0-12 by the 60th minute.
The momentum lay with Down but they struggled to make it show, wasting good chances for points. Tipperary took advantage to forge ahead through a Grogan free yet the impressive Daniel Hughes ensured extra-time would be required with a 67th minute point.
Extra-time unfolded in a similar fashion to the rest of the action, the sides staying close to each other on the scoreboard. Aidan Carr converted a free to push Down in front, Tipperary replied with fine scores from Brian Coen and John Cagney that put them one ahead before a Carr free in the 78th minute left it 1-12 to 0-15. But Down went in at half-time of that additional period in the ascendancy thanks to a brilliant score by full-back Conor Garvey.
Tipperary moved ahead in the second-half of extra-time thanks to two frees by Barry Grogan but a brilliant 89th minute score by Aidan Carr left them level at 0-17 to 1-14. Yet there was still time for more drama with Carey proving the hero.
Scorers for Tipperary: B Grogan 0-5 (0-4f, 0-1 pen), B Coen 0-4, J Tierney 0-3 (0-2f), B Mulvihill 0-2, D O'Brien, C Aylward, J Cagney, S Carey 0-1 each.
Down: A Carr 0-5 (0-4f), R Murtagh 1-1, D Gordon, D Hughes 0-2 each, B McArdle, C Magee, J Boyle, C Garvey 0-1 each.
Tipperary: P Fitzgerald; C Morrissey, C McDonald, A Morrissey; B Fox, H Coghlan, C Aylward; G Hannigan, B Jones; S Carey, N Fitzgerald, B Mulvihill; J Tierney, B Coen, B Grogan.
Subs: R Costigan for A Morrissey (half-time), D O'Brien for N Fitzgerald (41), C Higgins for C Morrissey (55), J Cagney for Mulvihill (65), K Mulryan for B Jones (65), A Moloney for Coen (inj) (67), Coen for Tierney (70), M Phelan for Fox (inj) (80), E Hanrahan for Aylward (inj) (90).
Yellow Cards:
Down: M McAllister; C McGovern, C Garvey, L Howard; A Carr, P Turley, D Rooney; D Gordon, S Kearney; B McArdle, J Boyle, R Murtagh; C Magee, D Hughes, R Sexton.
Subs: J Ireland for McArdle (half-time), D Rafferty for Turley (yellow) (43), M Cole for Rafferty (yellow) (53), P Murphy for Ireland (85)
Yellow Cards: Peter Turley (42), Damian Rafferty (53)
Referee: Cormac Reilly (Meath)
—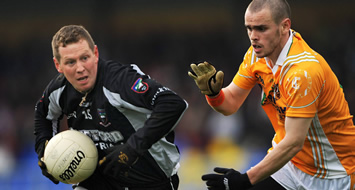 Allianz NFL Division 4 Final:
Sligo 1-12 Antrim 1-10
Injury-time scores by Gary Gaughan and Adrian Marren ensured Sligo took NFL Division 4 honours in this afternoon's final played in Longford.
The game began brightly with both teams confidently knocking over points, Adrian Marren registering for Sligo and wing-back James Loughry obliging for Antrim. A free from Stephen Coen, a late inclusion in the Sligo side, edged the Yeats men in front but then Antrim began to impose their control on proceedings.
Michael McCann strode forward for a fine point, Tomás McCann effortlessly converted a '45 and Paddy Cunningham split the posts with a free from 50 yards to see them 0-4 to 0-2 in front after 17 minutes. Sligo's challenge was starting to slump but then they enjoyed a fillip by finding the net in the 22nd minute. Sean Davey pumped a high ball which Antrim goalkeeper Sean McGreevy, who had looked unconvincing previously, flapped at and Stephen Coen despatched to the net.
That trimmed the gap but Sligo's momentum was killed within minutes when Antrim full-forward Dara Edwards palmed a ball into the path of Ciarán Close and he finished clinically to the net. Two quick points by Loughry and Cunningham soon followed and Antrim had sailed 1-6 to 1-2 clear.
But the game took another turn before the interval. With defender Charles Harrison in inspiring form and talisman Eamonn O'Hara introduced to the action, Sligo mounted a great last first-half revival. Dangerous corner-forward Adrian Marren notched two points, while half-forwards Alan Costello and Sean Davey helped themselves to a point apiece. Suddenly they were tied at 1-6 apiece at the break and the tie was delicately poised.
Sligo maintained their impressive form after the break, picking off four points within the first ten minutes courtesy of Marren (2), Coen and a glorious shot by David Kelly. 1-10 to 1-6 was a hefty lead to possess by the 45th minute mark.
Antrim steadied themselves with corner-forward Paddy Cunningham leading the way with accurate freetaking. He converted shots in the 52nd, 55th and 61st minutes to leave Antrim 1-10 to 1-9 adrift. In addition Sligo suffered a big blow in the 59th minute when wing-forward Sean Davey was red carded for striking Antrim back Tony Scullion.
Antrim pushed hard for the equaliser yet their prospects took a hit when Cunningham was brandished a yellow card. But they finally drew level in the 70th minute when McCann coolly pointed a '45. The momentum lay with the Northerners but instead Sligo finished the stronger. Substitute Gaughan pointed with his very first touch and top scorer Marren brought his tally to 0-6 in the 72nd minute to seal Sligo's success.
Scorers:
Sligo: A Marren 0-6 (0-1f), S Coen 1-2 (0-2f), A Costello, S Davey, D Kelly, G Gaughan 0-1 each.
Antrim: P Cunningham 0-5 (0-5f), C Close 1-0, J Loughry, T McCann (0-2 '45) 0-2 each, M McCann 0-1.
Sligo: P Greene; C Harrison, N McGuire, R Donavan; M McNamara, N Ewing, J Davey; E Mullen, T Taylor; S Stenson, A Costello, S Davey; S Coen, D Kelly, A Marren.
Subs: E O'Hara for Stenson (31), G Gaughan for Costello (70), D McKiernan for Gaughan (71)
Antrim: S McGreevy; K O'Boyle, C Brady, A McLean; T Scullion, J Crozier, J Loughry; M McCann, A Gallagher; T McCann, K Brady, N McKeever; P Cunningham, D Edwards, C Close.
Subs: M Dougan for Edwards (36), B Hasson for Gallagher (yellow) (42), D O'Hagan for Loughry (46), S Burke for McKeever (50), M Pollock for Scullion (blood) (58), Scullion for Cunningham (yellow) (65),
Yellow Cards: Aodhán Gallagher (42), Paddy Cunningham (65), Sean Burke (74)
Referee: Cormac Reilly (Meath)