Trio of Gaelic Games at Casement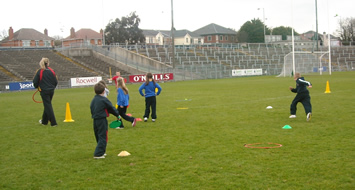 The inaugural 'Trio of Gaelic Games' in County Antrim, took place recently at Casement Park. The day was organised by the DENI coaches of Antrim and consisted of three coaching sessions followed by games. In each session the participating children received training in three different codes of Gaelic Games; Hurling, Football and Rounders.
Not only did the children thoroughly enjoy the games they were delighted to be playing at Casement Park, this proved to be a real treat for many aspiring Saffron Stars, and each child received a special certificate to mark the occasion.
This provided the children with an exposure to each of the codes and all involved thoroughly enjoyed themselves. Teachers and classroom assistants were also engaged in the coaching of the games which will in turn help them deliver our games when they return to their schools, especially in the coming months when sport comes to the fore in our schools.
Following this success and the enjoyment had by all involved, planning is already underway for more events later in the year.