Huge Response to Colouring Comp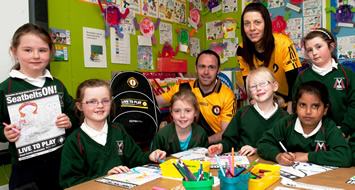 Friday 6th May will see the closing date for schools competing in Ulster GAA's Live to Play colouring competition. Over 25,000 children across over 600 Primary and National schools in Ulster are taking part with 18 classes set to emerge successful, 2 from each county in the Province.
For each winning class all pupils will receive a Live to Play backpack, featuring the Live to Play campaign branding, the County GAA Crest as well as reflective piping so the carrier is visible at night. The reflective piping is a hugely important safety element and will assist young people going to and from school, matches, training and other activities to do so safely.
Winning classes will receive their backpacks at school prize days in May and June.
The school colouring competition is a new dimension to the Road Safety campaign which thus far has included a successful poster and pitch side banner campaign featuring profile players from across Ulster; a car sticker and air freshener give-away at Championship matches, a fully-functioning microsite www.ulster.gaa.ie/livetoplay and over 30 education events at Club level.
The forthcoming Championships in Football and Hurling will see further promotion of Live to Play, with Club education events following in the Autumn period.
Photo attached: Pupils from St. Malachy's Primary School, Armagh get involved in the Live to Play colouring competition with the help of Ulster GAA Health & Wellbeing Manager Aileen Tohill and Ulster GAA Coach Karol McQuaid.