Fermanagh Training Day for Teachers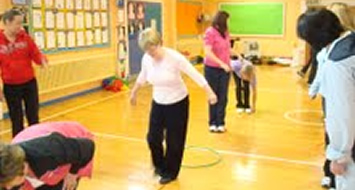 On Tuesday 30th August St Pauls P.S. Irvinestown and St Marys P.S. Tempo came together for a shared Inservice day for staff. The day was organised and delivered by Owen Mooney, Aisling Doonan and Fabian Burns.
24 teachers and classroom assistants took part on the day which was split up into two parts. The first part was led by Aisling and Fabian and the focus was on developing the participants knowledge of games and how games can be adapted to suit different abilities.
The second part of the day was led by Owen who looked at classroom based activities to increase children's motivation in class either to settle them down after break/lunch time or to get them energised so that they have extra energy to perform certain tasks during class.
Owen also focused on problem solving activities as well as ideas on how teachers can adapt a classroom based lesson through the medium of PE, giving the children the learning needs as well as the physical needs though certain themed activities in numeracy/literay & PDMU
"This was a very successful and worthwhile day for everyone involved. The ideas the Owen, Fabian and Aisling showed us today will definatley be used by my staff to further enrich the experiences of the children" Fergal McCann, Principal of St Mary's P.S. Teemore.