Conference highlights Scór successes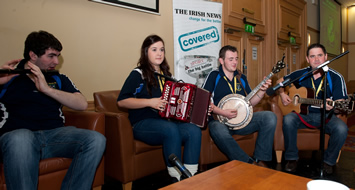 The Irish News Ulster GAA Cub and Volunteer Conference provided a platform to showcase the importance of Scór and Scór na nÓg.
In 2009, the decision was taken to promote Scór at the Club and Volunteer Conference to mark the 40th anniversary of Scór. It was received with great acclaim by conference delegates and has since become an important part of the conference opening.
This year, Ulster GAA proudly welcomed two Scór acts to perform at conference:
Sarah McVeigh is the current Scór na nÓg Ulster Solo Singing Champion. In 2011 she also claimed an All Ireland medal with her Club's Ballad Group. The talented singer and harpist from Saul in County Down officially opened conference.
Dromore's instrumental group of Tomas Quinn, Edel McQuaid, Catriona Gary, Fergal McAloon and Stevie Corrigan will go down in their club's history as they brought All Ireland and Ulster medals back to Dromore for the very first time in 2011. Ulster GAA was delighted the welcome the All Ireland Champions to conference and they performed on arrival and throughout registration.
The Scór na nÓg competition 2011 is well underway with some key competitions taking place over the next few months. On Saturday 3rd December the first Scór na nÓg semi final will take place in Clontibret, Co Monaghan for competing counties Armagh, Cavan, Monaghan. On Friday 9th December the second semi-final will take place in Dún Uladh, in Tyrone for competing counties Donegal, Tyrone, Fermanagh and the last semi-final takes place on Saturday 10th December in Glenullan, Co Derry for competing counties Antrim, Derry, Down.
Scór na nÓg Final will take place on 14th January in Galbally in County Tyrone.