'Off the Booze and On the Ball'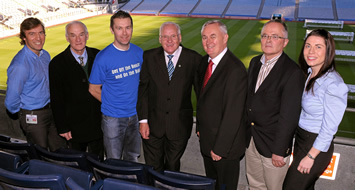 Ulster GAA has backed an exciting new health challenge to its members … 'Off the Booze and On the Ball', which was launched in Croke Park recently.
This fun challenge with a healthy twist invites participants to abstain from alcohol for the month of January and in doing so seek sponsorship to go towards their local GAA club. Participants are also encouraged to engage in some new exercises that help them reach their recommended weekly activity levels during the month, and hopefully beyond.
The challenge was extended personally by Uachtarán Chumann Lúthchleas Gael, Criostóir Ó Cuana, who launched the event along with Armagh and Crossmaglen's Oisin McConville.
Ulster GAA President Aogán Ó Fearghail urged Ulster GAA members to get involved in the campaign. He said, "This is an excellent opportunity for our members to start the year in a healthy manner. Many of our teams begin preparing for the season ahead at this time so it's ideal for our playing base, but we would be hopeful that the wider membership would get involved and truly make this a community effort!"
Individuals and panel members can sign up at www.gaa.ie/asap where they will receive a sponsorship card and an information pack containing details on health, exercise and diet. Further information is also available from respective County ASAP Officers. All participating clubs will be in with a chance to win a training session with one of Ireland's leading high performance coaches or one of the country's leading sports nutritionists in 2012.
Off the Booze & On the Ball, which is endorsed and supported by the GPA, fully supports the RSA's road safety message and the Ulster Council's 'Live to Play' programme and participants are encouraged to make themselves available as a designated driver for friends or family during their month of abstinence.
Pictured at the launch of 'Off the Booze, On the Ball' are GAA President Christy Cooney, Crossmaglen's Oisin McConville and National ASAP Co-Ordinator Colin Regan, joined by County ASAP officers Cuthbert Donnelly, John Moley, Gerry Soden and Ulster ASAP officer Aileen Cummins.