Historical Graduation Event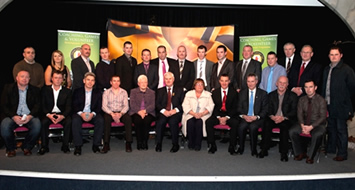 On Wednesday 12th December history was made at the Navan Fort Centre in Armagh when 33 Coaches/Managers received their Level 3 Diploma Certificates in Performance Coaching in Gaelic Games. The Ulster Council along with its accrediting body NI OCN (Open College Network) as well as key partners Skills Active and CEA were all in attendance to witness this ground breaking event.
These courses were pitched at the same difficulty and complexity as A-Level or Leaving Cert. The objective was to reward the hard work undertaken by many volunteers in clubs and schools and provide them with the opportunity to bring this into a formal qualification. In times of economic hardship and unemployment, the GAA can provide the catalyst for coaches and managers to develop new skills and competencies that they can use when seeking employment.
The first 19 students were presented with their certificates by Hilary Sloan (Chairperson of NI OCN) for the Level 3 Diploma in Performance Coaching in Gaelic Games. This particular course provided an opportunity for coaches who had been plying their trade at club, school and county level to understand, evaluate and critically analysis high performance strategies in the coaching field.
The next 14 students were presented with their certificates by Aogan Ó Fearghail (Ulster GAA President) for the Level 3 Diploma in Team Management in Gaelic Games. This programme was delivered to satisfy the demand from coaches who were keen to make the transition from coach to manager. It recognised that the skills set for managing teams is significantly different from that required for coaching and that managers need to acquire these skills.
Ulster GAA's long term vision is to have a number of mandatory units / modules that they can offer their volunteers. These will build into certificates in respective areas. If the volunteer over time takes a number of these they can begin to build a qualification at level 3 / 4 by taking these mandatory modules and then by accessing further optional modules that exist within the Qualifications Credit Framework. This we envisage would potentially build into a "Degree in GAA Related Studies".