Irish News Ulster All-Stars Announced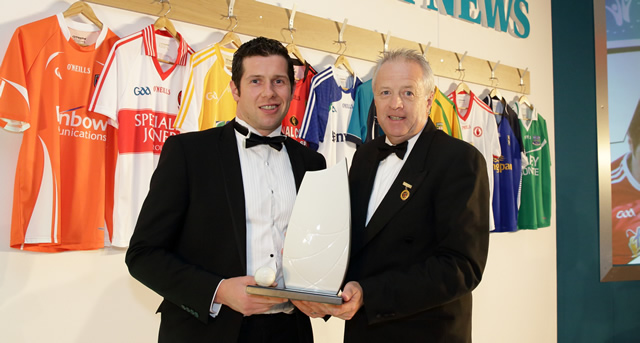 The uniqueness of the Irish News Ulster All-Stars is that the player selection is entirely based on fan choice, readers select in their opinion the best 15 players of the Championship.
Commenting on the success of the Irish News Ulster All-Stars, Noel Doran, editor of The Irish News said: "There is a freshness of counties this year in the All-Star line-up which is a great reflection of the continued health of the game in Ulster and is due recognition for the players who provided some great games across the summer."
"We are very fortunate to have such talent within the Ulster counties that makes the selection of 15 Ulster All-Stars such a difficult task for our readers.''
Included in the line-up are seven Monaghan players, four Cavan players and four Tyrone players. Speaking following last night's Irish News Ulster All-Star Awards in Armagh City Hotel, Ulster GAA President Martin McAviney stated:
"The Irish News Ulster All-Stars is always a very special evening to celebrate the successes of Ulster teams and individual players throughout the Ulster Championship"
"Ulster had a very exciting Football Championship this year and with Monaghan lifting the Anglo Celt Cup for the first time in 25 years, it really was a Championship that had it all – excitement, passion, surprise and some great displays of football."
"I congratulate all those who lifted an Irish News Ulster All-Star last night,and to Tyrone's Sean Cavanagh who won Irish News Player of the Year."
Additional awards were given out on the night to reflect the importance of all codes within the GAA family:¬ Hurling award, Camogie award and Ladies Football award.
The achievements of Ulster's top players were recognised at an awards dinner in the Armagh City Hotel last night.
The evening was hosted by Joanne Cantwell, RTE Sport presenter, with Kilkenny's 9 time All-Ireland senior hurling title-winning Henry Shefflin as guest speaker.
The Irish News Ulster All-Star team of 2013 is:
Rory Beggan – Monaghan
Colin Walshe – Monaghan
Drew Wylie – Monaghan
Killian Clarke – Cavan
Dessie Mone – Monaghan
Joe McMahon – Tyrone
Conor Gormley – Tyrone
Darren Hughes – Monaghan
Sean Cavanagh – Tyrone
Cian Mackey – Cavan
Eugene Keating – Cavan
Matty Donnelly – Tyrone
Martin Dunne – Cavan
Kieran Hughes – Monaghan
Conor McManus – Monaghan
Player of the Year
Sean Cavanagh
Camogie Award
Catherine McGourty – Down Camogie
Hurling Award
Conall Maskey on behalf of Ulster players in Warwickshire Senior Hurling Team
Joe Boyle – Donegal Senior Hurling Team
Paul Braniff – Down Senior Hurling Team
Ladies Football
Fionnuala McKenna – Armagh Ladies