Connacht claim Inter-Provincial Football title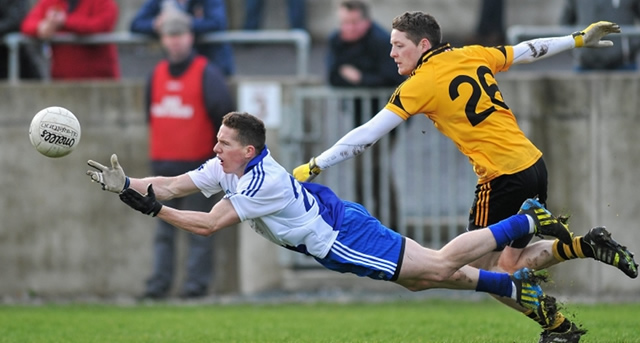 GAA Football Interprovincial Championship Final:
Connacht 2-19 Ulster 1-7
Connacht bridged a 45-year gap when they captured their 10th Interprovincial title at Tuam Stadium.
It was their first success since 1969 and on the day reigning champions Ulster just had no answer.
A crowd of around 600 enjoyed a free-flowing game of football which still had an edge to it with neither side pulling out of the exchanges.
Connacht's success was based around a solid performance in the opening half when they were playing against the strong wind.
Ulster were in trouble when they only led by 1-5 to 0-6 at the break having failed to make the wind advantage count.
They trailed by 0-4 to 0-2 in the second quarter but finished the half strongly with Colm Cavanagh finishing to the net two minutes from the break after goalkeeper Robbie Hennelly had denied Michael Murphy.
Hennelly ended up kicking 0-3 for Connacht on a day when eleven players found the target for the home side.
But Ulster goalkeeper Niall Morgan was not to be outdone and he kicked a great free just after the restart.
However, Connacht took control, and a goal from Michael Conroy after he was set up by Gareth Bradshaw sent Connacht on their way after 38 minutes.
Ulster only managed two points in the second-half and by the time Conor McManus got their second score 15 minutes from time, Connacht had opened up a 1-12 to 1-6 lead with some excellent scores from Cathal Cregg, Kevin McLoughlin, Keith Higgins and Seán Armstrong.
Ulster never looked like getting the goal which might ignite a comeback and Connacht landed five more points without reply before David Kelly wrapped up the issue six minutes from time with their second goal as they ran out deserving winners.
Scorers for Connacht: M Conroy and D Kelly 1-1 each; R Hennelly 0-3 (2f, 1 '45), C Cregg and S Armstrong 0-3 each; K McLoughlin 0-2 (1f), K Higgins 0-2; N Daly, A O'Shea, E Mulligan and P Conroy 0-1 each.
Scorers for Ulster: C Cavanagh 1-0; C McManus 0-3 (3f); N Morgan, S Cavanagh and M Murphy 0-1 (1f) each, M Poland 0-1.
Connacht: R Hennelly (Mayo); S McDermott (Roscommon), J Moore (Galway), K Higgins (Mayo); G Bradshaw (Galway), N Daly (Roscommon), K McLoughlin (Mayo); A O'Shea (Mayo), J Gibbons (Mayo); S Armstrong (Galway), E Mulligan (Leitrim), C Cregg (Roscommon); M Conroy (Mayo), P Conroy (Galway), D Kelly (Sligo). Subs: T Flynn (Galway) for O'Shea (8), O'Shea for Flynn (11); D Cummins (Galway) for Kelly (47), Kelly for Cummins (55); M Brehony (Sligo) for Kelly (65); E Concannon (Galway) for M Conroy (65); G Reynolds (Leitrim) for Bradshaw (65); N Ewing (Sligo) for McDermott (67)
Ulster: N Morgan (Tyrone); E McGee (Donegal), N McGee (Donegal), C Clarke (Tyrone); S L McGoldrick (Derry), R McCluskey (Fermanagh), P Harte (Tyrone); S Cavanagh (Tyrone), E Donnelly (Fermanagh); C Mackey (Cavan), M Poland (Down), C Cavanagh (Tyrone); E Keating (Cavan), M Murphy (Donegal), C McManus (Monaghan). Subs: K Hughes (Monaghan) for Keating (12); M McHugh (Donegal) for MacKey (30); C McKaigue (Derry) for McCluskey (Black) (44); D Givney (Cavan) for Donnelly (46); K McKernan (Down) for Cavanagh (52).
Referee: D O'Mahoney (Tipperary).
Report: gaa.ie