Ulster Senior Football Final 2014 Preview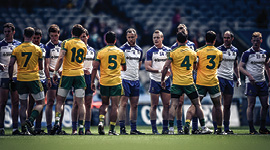 That sense of deja-vu you're feeling there in your seat or on the terrace hasn't happened as recently as you might think. Monaghan take on Donegal this afternoon in Ulster football's showpiece for the second year in succession.
The first time that's happened since…
It must be the 2000s. Tyrone or Armagh won every one of the 12 Ulster Championships played from 1999 to 2010 and spent most of that time as two of the best teams anywhere. That sort of duopoly must have produced some Ulster Final reprises, mustn't it?
Well, no, it mustn't. In all those years Armagh and Tyrone only squared off
in the Ulster final in one season – 2005. That went to a replay, and they also met in the All-Ireland Semi-Final later that season but that was as far as the deja-vu went.
Every other Ulster county fell to those two during that time, with Tyrone beating Cavan, Down, Monaghan and Antrim in finals and Armagh beating Down, Derry, Donegal and Fermanagh in deciders, as well as Tyrone in that 2005 replay.
You have to go back to July 1993 to All-Ireland champions Donegal's underwater clash with the team that would take their title two months later – Derry. If you want to go back even further to the last time before that, you won't need to stop until you get to 1969 and the third meeting in three years of Down and Cavan. But that's really delving into history, and how relevant that is this afternoon is open to question, even if it's just the history of 12 months ago.
Last year's Ulster Final is bound to have featured in conversations in both camps since they won their Semi-Finals. Donegal have had a fortnight more to fit in those conversations having secured their final place with a win over Antrim on June 22. Monaghan had to focus on their semi against Armagh and the subsequent replay before they could think about Donegal.
Even though Donegal didn't know who they'd be playing today until Monaghan won that replay, the opposition was irrelevant. With Jim McGuinness's side back in the Ulster Final for the fourth successive year – the first time any county has managed since… go on, guess: Yep, 1993 again, which was Donegal's fifth provincial decider in-a-row – the trauma of their 2013 defeat to Monaghan surely bubbled back to the surface.
While the game marked Monaghan's arrival as a top level force, it also foreshadowed Donegal's surrender of their All-Ireland title the following month when they were humbled by Mayo.
For the first time during McGuinness' reign, nothing went right for Donegal on a Championship Sunday as Monaghan swept to a deserved win. They were also full value for the NFL Division Two Final win they enjoyed over Donegal this season.
With both teams already safely in the top flight next season, that match might ordinarily have been little more than a tune-up with Championship clashes with Derry (for Donegal) and Tyrone or Down (for Monaghan) looming. But events at St Tiernach's Park last year meant this year's Croke Park meeting had plenty of bite, which obviously didn't do either side any harm as they went on to record impressive opening round wins in Ulster.
Against Derry at Celtic Park Donegal showed that, even though a few of the faces may change, the problems opposition teams face are much the same as they were during their All-Ireland winning year in 2012.
With new Championship new faces Odhran Mac Niallais and Darach O'Connor in the forward line, Donegal dusted off their third quarter turbo boost, which was the outstanding characteristic of their run to the 2012 All-Ireland Final, and put the game beyond Derry in the period after half-time.
Monaghan also made their break for home at the start of the second half of their clash with Tyrone, but had to hold off a furious Red Hand comeback to make the Semi-Final.
After those opening victories, Monaghan made much harder work of earning their way back to today's final, only managing to shake off Armagh's challenge after a Semi-Final replay. Donegal had plenty to deal with for a half against Antrim but the Saffrons couldn't handle Donegal's third quarter either.
Today is the 14th Championship meeting between the counties, and Monaghan are streets ahead of Donegal, with 10 to three. It's even grimmer reading for Tir Chonaill if you only go back as far as 1979, the last time before last season, that the teams met in the Ulster Final. In the seven matches between the sides since then, Donegal's only win was in the 1983 Ulster Semi-Final, which they won en route to the provincial title. Four years previously, Monaghan's 1-15 to 0-11 win gave them their first Ulster title since 1938. The next time they won Ulster, in 1985, they swatted Donegal aside in the first round of the Championship 1-14 to 0-7.
Donegal got one more point the next time the sides met, when Monaghan equalled their 1985 total to upset the odds to send Donegal, who had themselves beaten All-Ireland champions Down in the previous round, out of the Championship.
Donegal's summers were ended by Monaghan two years in a row in 2007 and 2008 when they shut the back door on Brian McIver's side. And then there was last year, and very few people at St Tiernach's Park today – and no-one in either changing room – need to be told what happened then.
So, while Monaghan and Donegal haven't met all that much in the Championship, today already puts them ahead of Armagh and Tyrone in terms of Ulster Final meetings, and reinforces the notion that Ulster football has found itself a new "big two".
With that in mind, whether today sees Donegal win their third Anglo-Celt crown in four years or Monaghan claim back-to-back titles for the first time since 1930, that sense of deja-vu you're feeling there in your seat or on the terrace might return sooner than you think.
By Seamus Maloney, the Irish News.