Ulster Camogie Convention 2015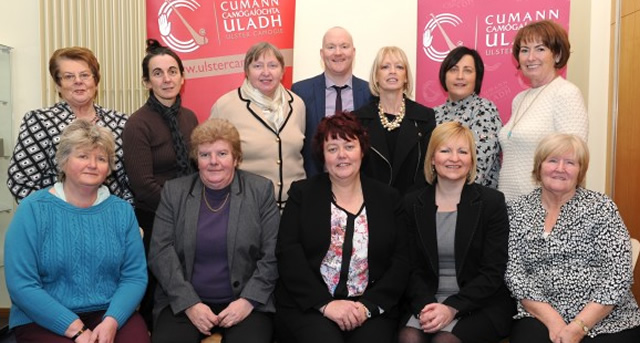 After a fantastic year for Ulster Camogie in 2014 all county delegates joined the Ulster Camogie Executive and special guests at the Ulster Camogie Convention. Ulster camogie were delighted to welcome Sport NI representative Gillian Gilliland, Ard Stiúrthóir Joan O'Flynn and Uachtaráin Tofa Catherine Neary to Cardinal Tómas O Fiaich Memeorial Library.
With a large attendance from throughout Ulster each of the Executive Officers reported on the events from 2014 followed by a few words from Catherine Neary and a presentation from Ard Stiúrthóir Joan O'Flynn on the new integrated module on the payments of affiliation fees. After lunch Kathleen Woods presented on recent changes to dealing with breaches to Our Game Our Code, and this information will be delivered throughout Ulster in 2015. Finally before the Election of Officers Rónán McCarthy talked about the new Conflict of Issues policy being introduced by Ulster Camogie, a policy which Ulster Camogie recommend all counties and clubs take on board.
The Ulster Camogie Executive were sad to see the departure of Bridghidin Heenan as Chairperson and Mary Herald as Secretary. Both ladies have been excellent in their roles and will continue to offer their valuable time, experience and knowledge to Ulster Camogie. Congratulations to new Chairperson Kathleen Woods who needs no introduction and Secretary Rosemary Hughes-Merry who stepped down as Treasurer. All other positions remain the same so many thanks to all other officers who remain in post.
The only posts still vacant are that of Assistant Secretary, Treasurer, PRO and Delegate to Ard Chomhairle, these positions will be filled at the first Ulster Council meeting of 2015.