Ulster win 32nd Interprovincial football title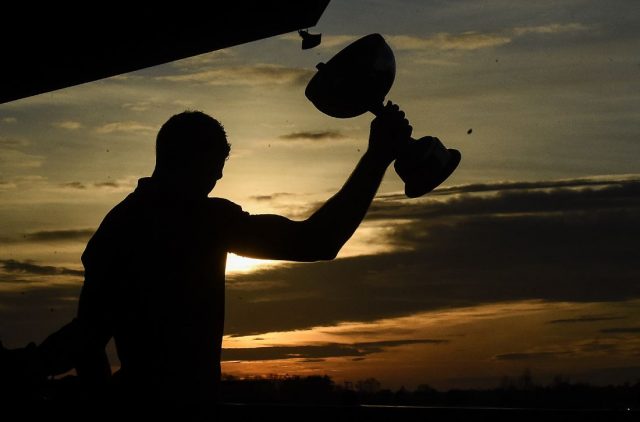 Interprovincial Football Final:
Ulster 2-16 Connacht 3-10
Goals in each half from Aiden Breen and Charlie Vernon helped Ulster claim their 32nd inter-provincial football title with victory over Connacht at Pairc Sean Mac Diarmada.
Roscommon's Ciaran Murtagh fired two goals and Damien Comer scored a third in a dominant first-half from Connacht, but a classy Ulster outfit dominated after the break to win their first title since 2013.
It was an entertaining first-half and for some time it appeared as if Connacht were going to run away with the game as Roscommon's Ciaran Murtagh and Niall Murphy from Sligo impressed early on.
Two quick frees from Jason Doherty and Kevin Higgins produced points for Ciaran Murtagh and Danny Cummins as Connacht ran into a 0-2 to 0-0 lead after three minutes, but at the other end the unerring Peter Harte got Ulster on the board.
Cummins came close to the opening goal of the game after six minutes, but his shot off the ground skewed wide. But two minutes later Connacht took a 1-2 to 0-1 lead when Murphy, who was involved twice in the build up, sent Ciaran Murtagh in for a well finished goal.
A free from Harte was quickly followed by an excellent point from Damien Comer off his left side, but things got even better for Connacht after 11 minutes when a second quickly taken free from Murphy send Ciaran Murtagh in for his second goal.
That goal put Connacht 2-3 to 0-3 ahead and in total control, but Ulster gradually took the sting out of Connacht and retained possession around the middle.
And when Fermanagh's Breen ran on to a pass from Vernon and finished past David Clarke the lead was cut to three points 12 minutes from the interval.
Enda Lynn and Tomás Corrigan also found their range to put just a point between the sides approaching the break, but a minute from half-time Comer toe poked to the net as Connacht led 3-6 to 1-10 at the turnaround.
Derry and Slaughtneil star Chrissy McKaighue has been busy of late due to club football and hurling commitments, but after his introduction at the interval, only one minute and ten seconds had elapsed before he was black carded for a tackle on Fintan Cregg.
A point from Harte cut Connacht's lead to a point soon after, but Ciaran Murtagh and Enda Smith soon opened that advantage out to three points with good points.
But this was a determined Ulster display and after a free from Corrigan, Armagh's Charlie Vernon hit a brilliant solo goal for McGrath side, to give them the lead for the first time, 2-12 to 3-8.
He followed it with another point on the run a minute later to stretch Ulster's advantage, while Harte, Breen and Lynn all found the target in the closing stages to seal victory.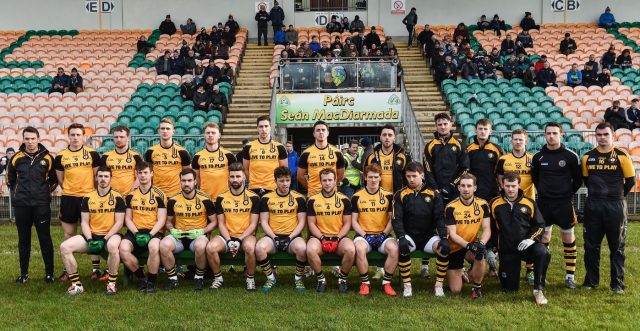 Scorers for Ulster: P Harte 0-5 (4f), A Breen 1-2, T Corrigan 0-4 (2f), C Vernon 1-1, E Lynn 0-3, S Campbell 0-1
Scorers for Connacht: C Murtagh 2-3, D Comer 1-1, J Doherty 0-2 (2f), E Smith 0-1, D Cummins 0-1, E Mulligan 0-1 (1f), P Conroy 0-1.
ULSTER: N Morgan (Tyrone); M Jones (Fermanagh), K Clare (Cavan), D O'Hagan (Down); T McCann (Tyrone), C Moynagh (Cavan), A Breen (Fermanagh); E Donnelly (Fermanagh), C Vernon (Armagh); K Niblock (Antrim), P Harte (Tyrone), E Lynn (Derry); N Sludden (Tyrone), S Campbell (Armagh), T Corrigan (Fermanagh). Subs used: R Johnston (Down) for Niblock (28), C McKaigue (Derry) for Moynagh (h-t), B Rogers (Derry) for McKaigue (32), D McCusker (Fermanagh) for Clarke (38), M Donnelly (Tyrone) for Campbell (44), T Kernan (Armagh) for Vernon (55).
CONNACHT: D Clarke (Mayo); K McDonnell (Sligo), J Duane (Galway), D Wynne (Galway); N Daly (Roscommon), G O'Donnell (Galway), J Heaney (Galway); E Smith (Roscommon), K Higgins (Roscommon); F Cregg (Roscommon), D Cum (Galway), C Murtagh; N Murphy (Sligo), D Comer (Galway), J Doherty (Mayo).
Subs used: P Conroy (Galway) for Cummins (10), D Wrynn (Leitrim) for Higgins (44), G Bradshaw for Doherty (49), E Mulligan (Leitrim) for Conroy (51), McManus (Roscommon) for McDonnell (53), D Murtagh (Roscommon) for Murphy (57), C O'Shea for Smith (59).
Referee: Padraig O'Sullivan (Kerry).
Report: Declan Rooney / GAA.ie