Celtic Challenge Tournament goes from strength to strength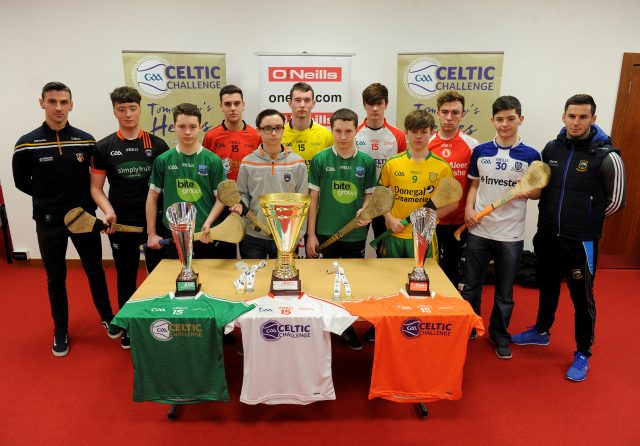 Ulster Hurling Development Manager Jimmy Darragh feels that the Celtic Challenge tournament will be a huge boost for counties in the province as it grows over the coming years.
Darragh says that the Under-17 tournament, which began on March 19th in his province, has the potential to be a game-changer for northern teams who will have a chance to play games on a regular basis at a desirable juncture in the Gaelic Games calendar.
"We have put a lot of work in to bring the competition to the level its at in Ulster and this tournament will bring teams and players together now, they will learn, the coaches will learn and they will have regular matches," he says.
"Last year the buy-in could have been better from the counties," he admitted. "But the good thing is that it's already better this year. That is because the Celtic Challenge is a fine idea, a good tournament and I see a lot of benefits coming out of it. Those benefits can be felt by all counties here and it puts a focus on hurling in a province where Gaelic football is still the main attraction in most places.
"I expect the Celtic Challenge to grow year on year and I honestly feel that we have already improved on last year's efforts," Darragh adds. "There will still be issues in games – with one team winning well – but this is a work-in-progress for Under 17 teams and they are getting competitive games. That is all they want."
The second round games of the 2017 Celtic Challenge Ulster Group Phase were played last weekend with Armagh and Fermanagh meeting, and Down enjoying a comprehensive win over Derry.
These group phase matches feature two tiers comprised of six counties.
In Group H1 Down, Derry and Antrim all feature while Armagh, Fermanagh and Tyrone play in H2. The remaining Ulster teams will face their first match of their group stages on May 3 when the national series gets underway.
Meanwhile, at a sun-kissed Portaferry last Sunday, Down had a 6-22 – 0-4 win over Derry. Free-scoring forward Tim Prenter, Padraig Doran and Ronan Costelloe were all in top form for the red & black machine, amassing 3-11, almost half of their sides tally.
As with their game last week against Antrim, the Down half-backs, Billy Campbell, Liam McCarthy and Cathal Coulter were never really tested and were totally in control throughout the whole 60 minutes.
With 17 minutes gone, Down led 3-9 to 0-0 but Derry finally got off the mark when Richie Mullan converted a 50 metre free after being fouled in possession.
Tom McGovern in the Derry goal was kept busy during the first 30 minutes and made a number of vital stoppage, but he was given no chance as Cathal Coulter and Tim Prenter struck for goal number four and five as half-time approached, with the scoreline reading 5-13 to 0-2.
The match officials nominated Tom McGovern of Derry and Ronan Costelloe of Down as the Best and Fairest players on the day.
Afterwards the Portaferry locals kindly laid on food and refreshments for the two teams after a very sporting and clean game of hurling.
Down will travel to Belfast midweek to take on Antrim in what should be a very entertaining battle. A Down win could possibly see them top the group and a chance of playing Division 1 hurling in the qualifying rounds come summer.
Elsewhere, Armagh came out the better of their game with Fermanagh in Middletown.
The teams had not met before but with both sides recording earlier wins against Tyrone, they came into this game keen to make a further mark on the competition.
After 5 minutes it was a 1-0 apiece and the first half was keenly contested with Fermanagh leading by four points, 2-6 – 1-5.
But Armagh came roaring back in the second half with crucial scores from Oisin Murphy, Fintan Donnelly and Eoghan McArdle inspiring them to 3-12 to 2-09 win.
Like in Portaferry, both teams repaired to the clubhouse where they mingled and enjoyed the post match meal and refreshments that were provided.
Report: GAA.ie