Ulster GAA proud to support World Blood Donor Day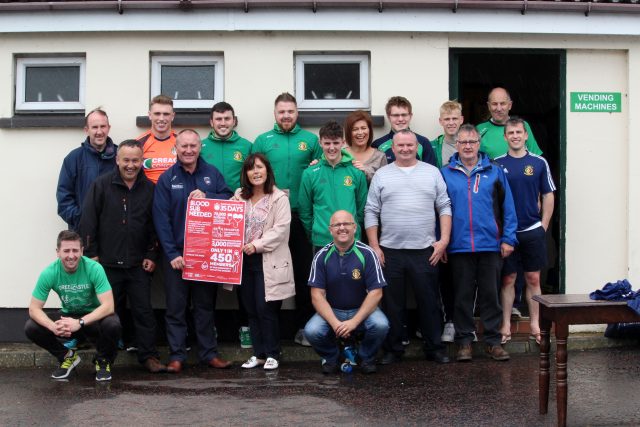 In support of World Blood Donor Day this Wednesday, June 14th, Ulster GAA has teamed up with the Irish Blood Transfusion Service, Northern Ireland Blood Transfusion Service and the Public Health Agency, to raise awareness of this vital service, and ultimately to increase blood donations through our "Blood Sub" campaign.
Did you know that approximately 1 in 4 of us will need a blood transfusion at some point in our lives? The transfusion service needs 3,000 donations every week to keep up with demand, bearing in mind that blood has a shelf-life of just 35 days.
Armagh club High Moss Sarsfiels GFC, Derrytrasna recently held a Blood Donation session through the Ulster GAA "Blood Sub" campaign.
Speaking about the programme, Eileen McAlinden, Club Health & Wellbeing Officer said: "we noticed the Blood Sub campaign through a local newspaper, and the importance of blood donations really hit home. We saw it as an opportunity for the club and community to come together do to something really positive. I was surprised at the large number of people who immediately registered to donate!"
When asked what steps they had to take, Eileen felt the steps were very straight-forward: "I first contacted Ulster GAA and from there the NIBTS got onboard. Getting the word out into the community was very important. We promoted it through other local GAA clubs, our community centre, church bulletins, local shops, and through social media".
The impact of hosting a blood donation session has been, according to Eileen: "a huge success. People from both sides of the community got involved as they felt it was so important to do something so vital for others. We are already looking forward to the next blood donation session in Sarsfields Community Centre."
The steps to become a "Blood Sub" are as follows:
Host an Information Talk
The NI Blood Transfusion Service can deliver an information talk at your local club which will raise awareness of the donation process and showcase examples of who you can help by donating blood. The Irish Blood Transfusion Service can provide clubs with literature; and clubs should visit Ulster GAA Blood Sub microsite for more information here
Host a Blood Donation Clinic
Not every club will be in a position to host a session, and in many areas there will already be an existing blood donation site, but if there is a gap, perhaps you can fill it. Use Ulster GAA's Blood Sub microsite for more information.
Encourage Others
Promote awareness of public sessions and encourage those around you to donate. If you are hosting a session in your club involve other groups within your community to maximise the impact of hosting a donation clinic. Use Ulster GAA's Blood Sub microsite for more information.