Bank of Ireland Renew Dr McKenna Cup Sponsorship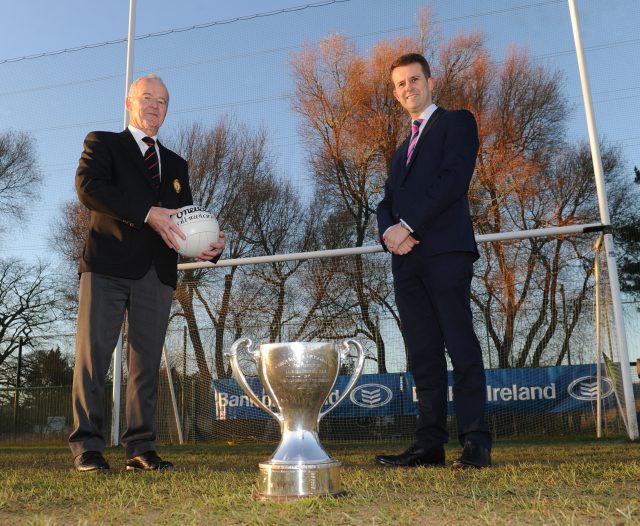 Bank of Ireland and Ulster GAA are delighted to confirm the renewal of their Dr. McKenna Cup sponsorship deal, which will run until the end of the 2020 campaign.
The renewed sponsorship deal will see the Bank as a key Corporate Partner for the next three years as well as a number of new joint initiatives to enhance the profile of the ever popular competition.
Speaking on the announcement at Queens Sport, Upper Malone, William Thompson, Head of Consumer Banking NI, Bank of Ireland UK, said:
"We're delighted to renew our sponsorship of the Dr. McKenna Cup and see our partnership continue to go from strength to strength. We're looking forward to another exciting season of competition fixtures between the Counties & Universities. We wish everyone taking part, the very best of luck – may the best team win!"
Michael Hasson, Ulster GAA President added:
''Ulster GAA is delighted to retain Bank of Ireland as the main sponsor of our pre-season inter-county competition until 2020. We have developed a strong working relationship with the Bank since the first year of the initial deal in 2015 and I warmly welcome this continued support for Gaelic games across the province.''
''The Bank of Ireland Dr McKenna Cup provides the opportunity for our County teams to get back to much needed competitive action ahead of their National League campaigns and also for our University sides to prepare strongly for their Sigerson Cup challenges.
''Our supporters also look forward to getting back out to cheer on their teams after the winter break. Well over 45,000 supporters attended our games in January this year and we expect another series of exciting matches in 2018''.
The 2018 Bank of Ireland Dr McKenna Cup will throw in on Sunday 3rd January and will feature all nine Ulster Counties as well as the province's main University teams – Sigerson Cup holders, St Mary's University College, Belfast, Ulster University and Queen's University, Belfast.
The draw for the 2018 Bank of Ireland McKenna Cup took place last night (Thursday 30th November) and all fixtures will be confirmed by Comhairle Uladh CCC w/c 4th December.
The sections drawn were:
• Section A: Tyrone, Cavan, Antrim, St Mary's
• Section B: Armagh Derry, Down, UU
• Section C: Donegal, Fermanagh, Monaghan, Queen's
Round 2 games will be played on Sunday, 7 January, and Round 3 games will take place on Wednesday, 10 January.
Semi-finals will be played on 14 January with the final scheduled for the weekend of 20-21 January.