Derrymacash clubwoman is Translink Ulster GAA Young Volunteer of the Month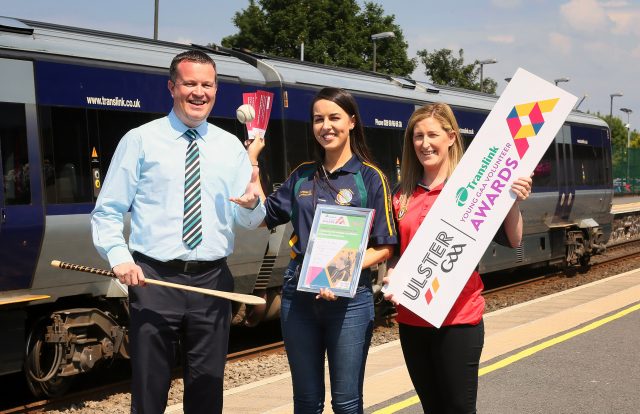 A hardworking club secretary from St.Enda's Derrymacash has been awarded the Translink Ulster GAA Young Volunteer of the Month award for May 2018.
The award is presented each month to one young volunteer whose efforts best demonstrate the volunteering ethos and community spirit of the GAA.
Niamh McCarthy (23) was nominated in recognition of the time and energy she commits as a member of the club committee, as well as being a playing member of both the senior camogie team and the ladies Gaelic football team.
Presenting Niamh with her award, Gary Mawhinney, Service Delivery Manager, Translink said:
"The Young Volunteer of the Month Award is designed to celebrate the important contribution young members of the GAA make to their clubs and communities. On behalf of Translink, I'd like to congratulate Niamh on winning the accolade.
"We were really impressed not only with the number of hours Niamh volunteers, but also with how she has used her talents in textile design to create the club's first ever crest – something which everyone in the community can be proud of. The club benefits from her talent as a camog and footballer, as well as her outstanding leadership and organisational skills. All of which makes her a very worthy winner of the monthly award."
Praising Niamh's efforts, Ulster GAA  Volunteer Development and Policy Officer Ashelene Groogan said, "Niamh is an outstanding young lady, as well as being a dual player the time and commitment she gives back to her club is remarkable, the administration hours she contributes to her Club Maith folder needs applauded, the dedication she puts in outside her playing time she was well deserving of this Months award."
In celebration of her achievement, Niamh was presented with a framed certificate and a pair of Enterprise train tickets, courtesy of Translink.
To nominate a young person aged 14-24 for this monthly accolade, visit ulster.gaa.ie/youngvolunteeraward/