Club Captain is Translink Ulster GAA Volunteer of the Month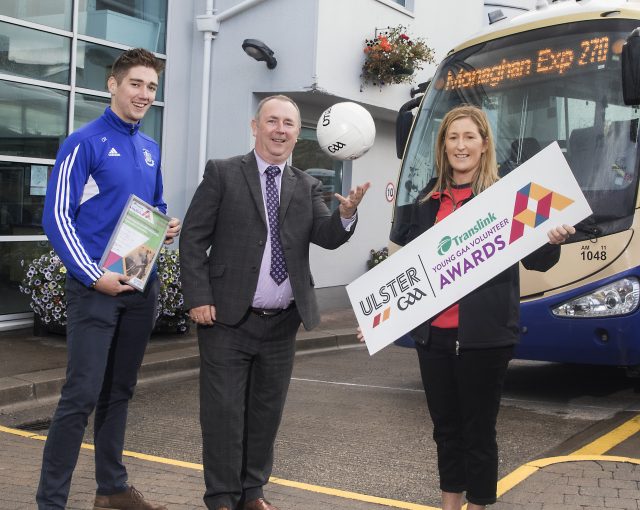 Christopher Rice from Latton O'Rahilly GAA in County Monaghan has been awarded the Translink Ulster GAA Young Volunteer award for June 2018.
The accolade is presented to one young person each month, whose efforts best demonstrate the volunteering spirit of the GAA.
Following a high standard of nominations from clubs across Ulster, judges were struck by Christopher's exceptional commitment, both on and off the pitch.
At 23 years old, Christopher is senior captain. In addition, he also finds time to coach a group of 20 players at under-17/ minor level, as well as being responsible for administering the collection of membership and gym fees.
Congratulating Christopher on his award, Gerry D'Arcy, Translink said:
"Having been nominated by his club, Christopher is a very worthy recipient of this award. As a player and mentor, he acts as a great role model for other young people in his community. His efforts are clearly appreciated, and we are delighted to help recognise and reward his work through the presentation of this award."
Ashelene Groogan, Ulster GAA, Volunteer Development and Policy Officer added:
"On behalf of Ulster GAA I would like to congratulate Christopher. As a playing member and senior captain, the hours he gives back to his club should be commended. As a player and coach, he shows great leadership qualities."
Christina Weldon, Secretary, Latton O'Rahilly's said:
"Christopher is a brilliant asset to our club. He commits three nights per week as a coach and is a breath of fresh air to our young boys with the expert advice that he brings to his training sessions."
Applications for the Young Volunteer of the Month award are now open. To nominate a young person aged 14-24 for the accolade visit ulster.gaa.ie/youngvolunteeraward/