McKeever experiencing Ulster Championship from a new perspective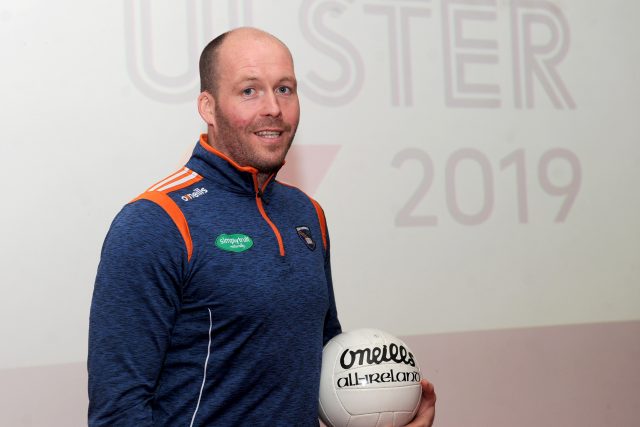 A five time Ulster Senior Championship winner with Armagh, Ciaran McKeever is no stranger to the Ulster Championship.
But the Cullyhanna man is experiencing the Ulster Championship from a whole new perspective as he heads into his first Ulster campaign as manager of the Orchard county Minors.
With St Patrick's Armagh and St Colman's Newry progressing to the latter stages of schools competitions, Armagh's league campaign may have suffered but McKeever is keen to draw the positives.
"I suppose going into it [the league], you're missing players through MacRory Cup campaigns. We found ourselves missing our St Pat's Armagh contingent for our first two games and then when we got them we ended up missing our St Colman's Rannafast boys for the latter matches but it gave us great balance throughout our squad.
"It got us to look at a load of players through the league campaign so it's been a really positive campaign for us from an Armagh point of view. We got to see loads of players given game time that might not have got game time if all them players had have been available, so I think it's made our squad that little bit stronger."
McKeever is acutely aware of the threat posed by Derry but it's one his side are ready for and looking forward to.
"It's going to be a tough, tough, tough challenge for us but it's one that we're looking forward to. If you look at Derry underage football it's in a good place they've put in a lot of work especially with this group from Under 14 level.
"You have the Downeys, McGurk and the Diamonds involved with this squad, all great calibre from the past, their parents on the '93 squad. So there's been a lot of work has gone into this Derry squad over this past number of years. So, yeah look it's a challenge but it's one that we'll be looking forward to."
Regardless of result McKeever sees great benefits to the challenge offered by the Electric Ireland Ulster Minor Championship.
"It's a great exposure for the kids at 15, 16, 17 years of age. You get this opportunity to play in a really high end competition and develop as people and players. And the more exposure they get the better.
"At the end of the day we want these players to experience this type of environment because later down the line these are the boys you want to represent you at county senior level and that's what it's all about."
Armagh welcome Derry to the Athletic Grounds on Saturday with throw-in at 6pm.
For more information on this year's Electric Ireland Minor Championship visit https://ulster.gaa.ie/ulsterchampionship2019/minor-football/