Exemplary young coach wins Translink Young Volunteer for May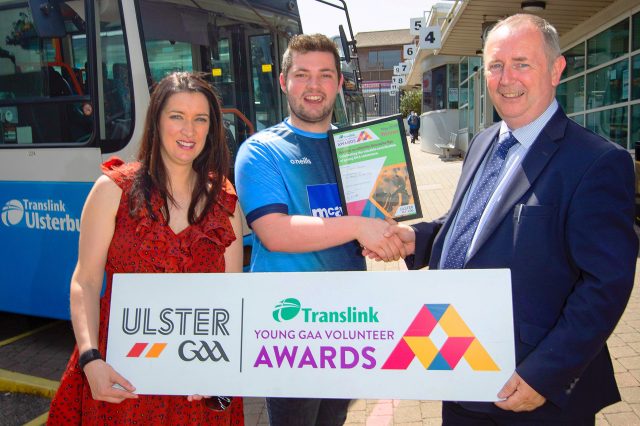 Ciaran Foster, 19, from Moy Tír na nÓg in Tyrone has been selected as Translink Young Volunteer for May 2019. Ciaran has made a significant impact in his club ever since a bad injury ended his playing career at a young age.
Ciaran was extremely unlucky to have his playing career come to a blunt end following serious injury to his knee. In the face of adversity, the young gael turned his attention from playing Gaelic to volunteering at his local club. The impact he has made since, has been significant both for himself and his club.
Ulster GAA President Oliver Galligan said: "Ciaran's story is so inspirational. None of us like to hear of a young man or woman forced to retire from playing at youth level due to injury. But that's what happened to Ciaran and his love for Gaelic Games got him through his recovery and offered him something different to concentrate on.
"That's the beauty to the GAA there is something for everyone, and volunteering at club level is a great way of making a real impact on your local community. Ciaran's contribution to his club has been outstanding and we are delighted to acknowledge that through this award."
Translink Assistant Service Delivery Manager Gerry Darcy said: "I am delighted to present Ciaran with this award on behalf of Translink. He is an inspirational young man who has shown an ability to turn such a negative into a positive.
"His resilience is admirable, and he is a strong role model to young people in sport. The contribution he makes to his club is second to none and shows the real impact young people can make through volunteering. It's wonderful for Translink to be able to help celebrate his efforts."
Mary Daly, secretary of the Moy Tír na nÓg said: "Ciaran would have played for the club at youth level but having had two major operations on his knees he was forced to retire from playing. However, he really wanted to remain involved with the club at some level so he started helping out with the minor team.
"His dedication to this role was recognised by the senior team management and as a result he now also volunteers with this team which involves setting up for training sessions, lining out the pitch prior to games, putting out the flags, sorting the kit, keeping the stats and helping to clean changing rooms.
"He also coaches our current minor team and as a result would volunteer on average 48 hours per month to his various roles. His ambition would be to coach/manage the senior team in the future. Because of his involvement he is now encouraging other young people to volunteer and his obvious commitment to his club has earned him the respect of the club members."
To nominate a young person for this award, visit https://ulster.gaa.ie/youngvolunteeraward/.
The nomination process opens on the 20th of each month and closes on the last day, after which a panel will select the winner. Monthly winners will receive a commemorative certificate and a set of Enterprise tickets, provided by Translink.