Young St Enda's Player develops his Coaching Skills and wins Translink Young Volunteer Award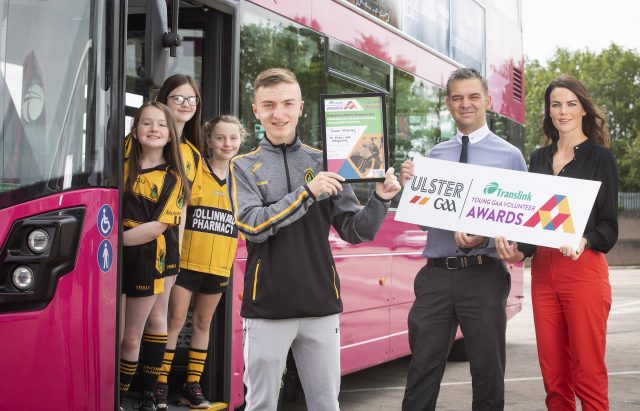 15 year old Ciaran McGinley has won the Translink Young GAA Volunteer of the Month for June for his spectacular effort in developing Ladies Gaelic in his club.
Ciaran, from St Enda's GAC Glengormley, impressed the judging panel for his dedication and hard work to developing the women's code while playing Gaelic Football himself.
Ulster GAA President Oliver Galligan said: "Ciaran embodies what the GAA is all about, he is a keen player with a love for the game and that passion has stretched him to help with other teams in his club and notably the ladies code.
"He demonstrates GAA integration at its best – the GAA for all! We are delighted to award this prestigious award to this outstanding young volunteer from St Enda's."
Sean McGreevy from Translink said: "It's very inspirational to see a young man who is busy training and playing Gaelic football find the time and energy to help develop the Ladies team as well.
"His dedication and commitment to the Ladies team undoubtedly benefits the club and also helps this young man develop his own coaching and mentoring skills which will stand to him in the future. Ciaran McGinley is certainly one to watch for the future."
John McKay, St Enda's U12 Girls Coach, congratulated Ciaran saying: "Ciaran is an extraordinary young person. This young gentleman man commitment to giving back to the club he has plays for is phenomenal. For example, when he isn't playing himself, coaching girl's u12 football and refereeing we are away to football blitzes (two this month) – and all while doing his G.C.S.E. modules! I wish we had more like him."
And there are plenty more like Ciaran in clubs across Ulster if the nominations to this prestigious award are anything to go by.
Any club wishing to nominate a young volunteer aged 14-24 year old should log onto https://ulster.gaa.ie/youngvolunteeraward/.