Cúrsa De Faoite 2019 sna Dúnaibh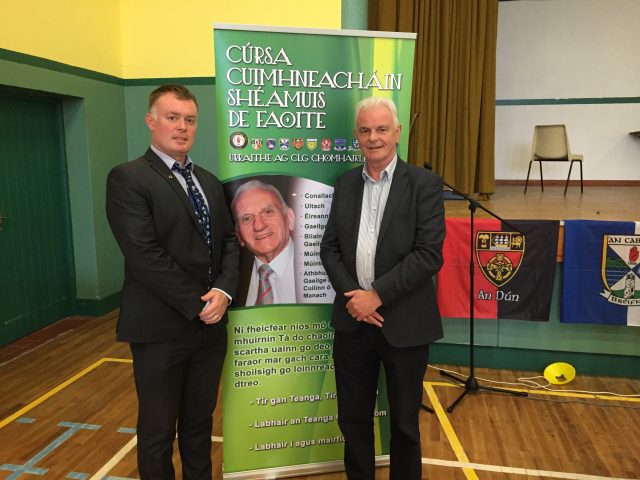 2019 saw the 31st year of the annual CLG Uladh Cúrsa de Faoite sna Dúnaibh, Dún na nGall, with over 120 CLG Uladh members attending to improve their Gaeilge or begin their journey with the language.
D'fhreastail breis agus 120 ball den CLG in Uladh ar an chúrsa i mbliana, agus gach duine acu ann le feabhas a chur ar a gcuid Gaeilge agus an Ghaeilge a chur chun cinn ina gclubanna féin.
Five class levels were made available to course attendees so as to cater to all abilities. In addition to these ranganna, activities and entertainment were organised for attendees and locals of Na Dúnaibh each evening.
Bhí foghlaim na Gaeilge ag croílár an lae, agus siamsaíocht curtha ar fáil do bhaill an chúrsa agus do mhuintir na háite sna hoícheanta.
Panel Guests such as Brian McAvoy, CEO of CLG Uladh, Seán Ó Daimhín of Comhairle Chontae Dhún na nGall, and Edel Ní Chuireáin of RTÉ Raidió na Gaeltachta partook in a question and answer session on discussing their professional and personal experiences in their various fields. Jamie Ó Tuama, Oifigeach Forbartha na Gaeilge i bPáirc an Chrócaigh, delivered a léacht on An CLG agus An Ghaeilge to the delight of the gathered members. Talented Scór performers entertained guests with performances, ceol agus amhránaíocht na Gaeilge, and students and locals alike enjoyed the Céilí Mór agus Siamsa Mór an Chúrsa before departing.
Tá an cúrsa seo ag dul ó neart go neart, agus tá CLG Uladh ag dúil go mór le fás an chúrsa seo sna blianta amach romhainn.
Más spéis leat labhairt le baill an choiste, nó le hOifigeach CLG na Comhairle faoin chúrsa seo, cuir ríomhphost chuig tricia.nichearra.ulster@gaa.ie. Please contact Tricia should you have any queries about this course.
Beatha teanga, í a labhairt.