Ulster GAA launch 'Ár dTeanga, Ár gClub' campaign to celebrate Seachtain na Gaeilge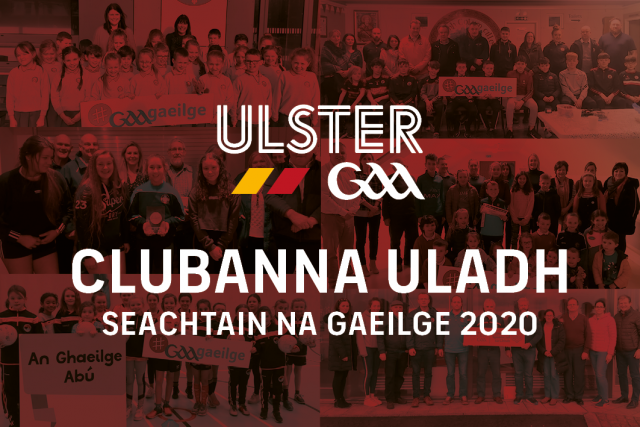 Tá Seachtain na Gaeilge faoi lánseol agus feachtas 'Ár dTeanga, Ár gClub' ar bun ag CLG Uladh.
Club Spotlight: Celebrating Ulster Clubs
I mbliana, táimid chun ceiliúradh a dhéanamh ar Sheachtain na Gaeilge le hiarrachtaí na gclubanna sa Chúige an Ghaeilge a úsáid agus a chur chun cinn.
Tá Seachtain na Gaeilge anois faoi lánseol agus tá CLG Uladh ag ceiliúradh na féile le clubanna an CLG ó Chúige Uladh agus an obair atá ar bun acu an Ghaeilge a fhorbairt ina gceantair.
Ulster GAA is marking Seachtain na Gaeilge 2020 by casting a well-deserved spotlight on Ulster Clubs, and particularly on the clubs in Uladh registered on the Fondúireacht Sheosaimh Mhic Dhonncha scheme, headed up by Glór na nGael in partnership with An CLG.
This video campaign aims to portray the efforts made by Clubanna Uladh agus Clubanna na Fondúireachta in promoting and using their Gaeilge.  Many of our clubs train their players trí mheán na Gaeilge, others organise regular ciorcal comhrá (conversation classes), ranganna amhránaíochta (singing workshops), ceol trí Ghaeilge (music through Gaeilge), and so much more. Clubanna Uladh are becoming ever more innovative and creative in how they encourage their members and communities to embrace Gaeilge; such volunteer spirit should inspire us all.
Le linn 10ú-17ú Márta, beidh físéan ó chlubanna éagsúla sa Chúige – agus cuid de na clubanna a bhfuil bonn bainte amach acu san Fhondúireacht – á bpostáil ag CLG Uladh ar na meáin shóisialta.
Ulster GAA will post a video daily between 10-17 March on all our Social Media platforms. We hope this campaign inspires all of our members to make a concerted effort to ensure Gaeilge is seen and heard in their clubhouse.
Is féidir tuilleadh a léamh faoin Fhondúireacht anseo. Tá CLG Uladh ag iarraidh imeachtaí na gclubanna ar fad sa chúige a fheiceáil le linn na féile seo. You can read more about the Fondúireacht here. CLG Uladh wants to see the efforts and events of all our clubs in Uladh during Seachtain na Gaeilge. Clubs and GAA members are encouraged to use the hashtag #SnaG2020 #GAAGaeilge with their posts and photos so that we may see their efforts and promote them.
Féach moltaí CLG Uladh maidir le cur chun cinn na Gaeilge inár gclubanna:
1.      Bígí ag postáil go dátheangach ar na meáin shóisialta / Post bilingually on social media platforms throughout Seachtain na Gaeilge – aim for one post per day, seanfhocal an lae nó frásaí úsáideacha. Useful phrases here.
2.      Rang comhrá a eagrú chun deis a thabhairt do Ghaeilgeoirí an cheantair í a úsáid / Organise a rang comhrá for Gaeilgeoirí to come together and use their Irish / a taster session for clubs to use Irish – see useful resources for a class anseo nó anseo
3.      Bainigí úsáid as ainm oifigiúil an chlub / Use club name as Gaeilge as provided by Ulster GAA's Irish Club Names Directory. Féach anseo
4.      Déanaigí cinnte de go bhfuil comharthaí Gaeilge nó dátheangacha sna clubanna chun baill an chlub a spreagadh í a labhairt / Use signage throughout your club as Gaeilge, and encourage all members to use whatever Irish they have throughout Seachtain na Gaeilge. Mura bhfuil seo agat, if your club has no internal signage, contact Oifigeach Gaeilge na Comhairle.
5.      Imeachtaí a eagrú trí mheán na Gaeilge / organise an event through Irish such as Biongó (bingo), céilí, tóraíocht taisce (treasure hunt), maidin caife (coffee morning), lá spóirt do pháistí (sports day for kids), seisiún traenála (training session). Resources available here.