Virtual conference focuses on sports clubs becoming more inclusive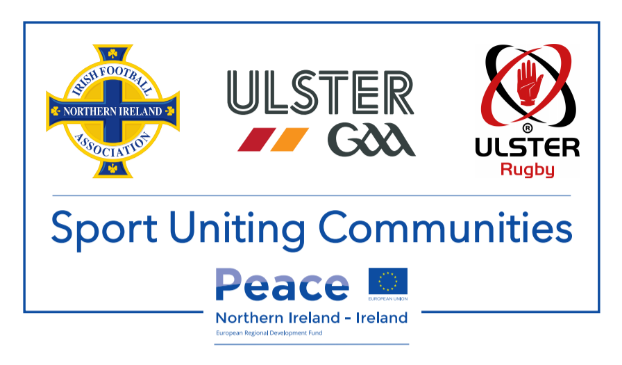 Sport Uniting Communities celebrated this year's Good Relations Week by hosting an online conference.
The virtual conference, staged via Zoom, attracted more than 100 attendees who took part in the discussion from the comfort of their own homes across the province and further afield.
And for those not able to attend the live event, the conference was recorded and distributed on request.
Through the event SUC – which is run by Ulster GAA, the Irish FA and Ulster Rugby – showcased the work of clubs across all three sports in their efforts to becoming more inclusive clubs. During the conference attendees heard from Greenisland FC, East Belfast GAA and Lurgan RFC.
Marc Gamble, Head of Youth Development at Greenisland Football Club, said:
"At Greenisland FC our ethos is 'football for everyone' so we were delighted and proud to be chosen to participate in the Sport Uniting Communities conference.
"Engaging with our local community and providing sporting opportunities that can provide real physical, mental and social benefits is at the heart of everything that we do, and as a club we are committed to developing those opportunities in the future."
David McGreevy, Secretary of East Belfast GAA, said:
"It was great to be asked to take part in the Sport Uniting Communities conference, East Belfast has inclusivity as its central ethos from our inception and it was great to showcase this and the strides we've made in such a short period of time."
Ulster Rugby and Ireland player, Jacob Stockdale, joined the online event as a special guest, speaking alongside his club, Lurgan RFC, on how to create a welcoming set-up for all the community.
"I am continually impressed by the dedication shown by everyone at Lurgan RFC to be inclusive to all of the local community. It's a pleasure to see what an impact the club has off the pitch, as well as on it.
"Through sport, we are able to create opportunities for young people to play a game, and meet other kids, they wouldn't normally get to. It's about having a bit of craic and creating friendships that can last a lifetime.
"Getting the chance to help some of the more vulnerable in the local area with Lurgan RFC during the pandemic, alongside Clan na Gael, has shown how coming together through sport and doing something practical, such as delivering food packages, creates the opportunities for important relationships to be built across our community."
Sport Uniting Communities is supported by the European Union's PEACE IV Programme and managed by the Special EU Programmes Body (SEUPB).
For more information about SUC please contact Sarah Keys at sarah.keys@irishfa.com.