Develop a Coaching Philosophy for your Club with the Ulster GAA Club Support Programme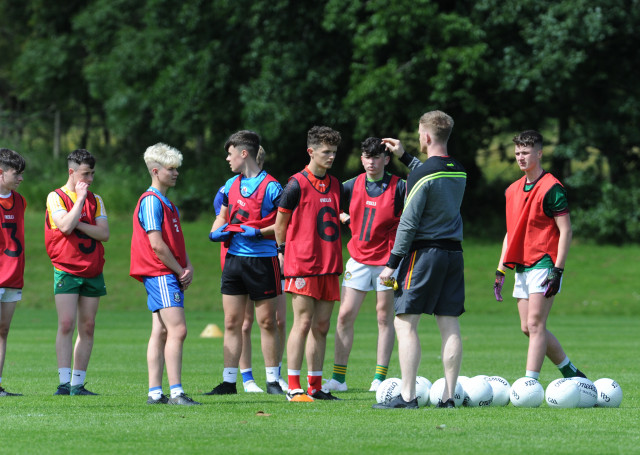 "You don't create a philosophy with signs and slogans. You create a philosophy with people and leadership."
Throughout Gaelic games in Ulster, from a Coaching and Games perspective, one of our aims is to develop self-sufficient and sustainable clubs.
With the current pandemic and on-field coaching and games activities currently suspended, now is the time for your club to develop a coaching philosophy that is going to improve coaching and games standards in your club.
Developing a club coaching philosophy and effective coaching structures requires a collective buy-in from all the key personnel in the club – one or two motivated people will not make this work on their own. Getting input from club members will create identity and ownership of the plan, this in turn will allow the club to strengthen and grow.
Ulster GAA can help your club develop and implement an effective club coaching philosophy and plan with the Club Support Programme.
This process consists of multiple sessions and by the end, your club will have a more structured approach to the delivery of coaching and games across all teams.
For more information and assistance in going through this programme, please contact Ulster GAA Provincial Club Coaching and Games Development Officer Garreth Thornton on garreth.thornton.ulster@gaa.ie
A number of clubs from across the province have already benefitted from the Ulster GAA Club Support Programme. Here's what they have to say:
Pearse Óg GFC, Armagh.
"In the course of reviewing our coaching structures I contacted the Ulster GAA for advice and guidance in this area, and I can only say they responded immediately with information and direction. Not alone did Garreth offer opinion and focus, he came along and done a number of presentations for our club which were extremely beneficial. Through his guidance and advice, the coaching within our club has been rejuvenated and indeed brought to a new level. The service provided by this body is ongoing and in this regard our club feels reassured and comfortable of our coaching future."
Laragh United GFC, Cavan
"Laragh United GFC saw great improvements following the implementation of an overall coaching plan for the 2020 season. Through this interaction it enabled empowerment of our coaches and upskilled them in areas which they identified as needing assistance to improve their overall skill set and confidence. Outside of the normal group sessions, the continued engagement with Garreth has been refreshing and we are confident that the support network is there to help improve our coaching structures throughout the various age groups."
Roger Casements GAC Portglenone, Antrim
"Ulster GAA, through Garreth Thornton, have provided excellent and sustained support to Roger Casements GAC, Antrim. In particular their ability to encourage coach participation in sessions to date has made for very meaningful engagement and genuine development/ progression of our coaches."
CLG Gaoth Dobhair, Dún na nGall
"Ba mhaith le CLG Gaothdobhair buíochas a ghabhail le Comhairle Uladh ar son a gcuid tacaoicht agus go hairithe Garreth Thornton atá iontach cuidiul o thaobh an coaitseaille de go raibh mile maith agaibh."
Strabane Sigersons GAA, Tyrone
"Sigersons GAA were very grateful for the support provided to the club through Garreth. His knowledge of clubs, helping them identify their coaching requirements and how to implement solutions to suit the club were extremely useful and very well received."
Liatroim Fontenoys GAC, Down
"Our club has been trying to update and improve underage coaching for some time but it is only when we called on Ulster GAA and were able to enlist the services of Garreth Thornton, the Club Coaching and Games Development Officer, that we started to make real progress. With his help and guidance, we have been able to almost double the number of coaches within our club as well as strengthening the school-club link with our local primary and second level schools.
"In addition, his discussions and presentations have enabled our coaches to re-examine their roles and make appropriate adjustments where needed. His contribution is ongoing which is reassuring as we know that we can call on him for advice at any time. With more than 20 teams at different age levels in Ladies Football, Camogie, Hurling and Gaelic Football it is important that we continue to tap into Garreth's knowledge and expertise as we attempt to establish a firm foundation for the future development of coaching within Liatroim Fontenoys."