Gaeilge teaching resource 'Foghlaim sa Chlub' launched with Ulster University and Foras na Gaeilge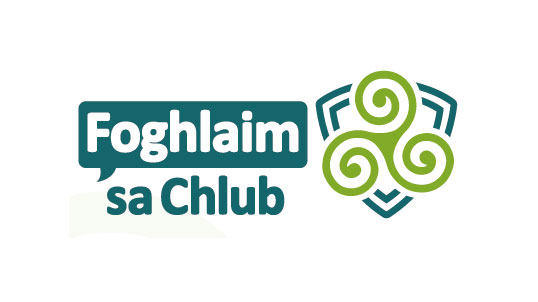 CLG Uladh agus Foras na Gaeilge ag obair le hOllscoil Uladh ar an tionscadal seo, agus is é an aidhm atá againn ná go gcuirfear acmhainn ar fáil a thacaíonn lenár n-oibrithe deonacha agus le múinteoirí ag teagasc na Gaeilge ag leibhéal an chlub. Tá sé iontach go deo tábhachtach go mbeidh ardchaighdeán teanga ar fáil ag gach club.
Upon auditing Ulster clubs in 2019 and again in 2020, our clubs overwhelmingly requested assistance with resources for teaching Irish in their clubs. Ulster GAA has partnered with Ulster University, with support from Foras na Gaeilge, to make a high standard resource available for all clubs.
Le linn na dianghlasála i lár 2020, bheartaigh CLG Uladh agus Ollscoil Uladh ar an bhranda 'Gaeilge sa Chlub' (scoláireachtaí dár mbaill atá ag tabhairt faoin dioplóma sa Ghaeilge in Ollscoil Uladh) a leathnú agus a fhorbairt.  Tháinig 'Foghlaim sa Chlub', an plean teagaisc, amach as an chomhrá sin.
During the 'lockdowns' of 2020 Ulster GAA and Ulster University decided to expand upon the 'Gaeilge sa Chlub' brand (the partnership in which Ulster GAA provides scholarships to GAA members who wish to undertake the Diploma in Irish in UU).  Foghlaim sa Chlub is the name given to the initiative born out of that expansion.
Tá modúil istigh sa phlean teagasc.  Beidh nótaí ann don mhúinteoir agus don fhoghlaimeoir araon, chomh maith le ceachtanna éisteachta. Chuir foireann Ollscoil / CLG Uladh an chéad mhodúl le chéile dírithe ar ghlantosaitheoirí, ach beidh na modúil eile ag tacú le foghlaimeoirí ag leibhéil éagsúla. Cuirfear modúil breise in airde le linn na bliana.
Foghlaim sa Chlub will consist of modules which have 20 units within them. We are launching with ten units from module one for beginners. Clubs will be given the opportunity to provide feedback on the resource before the final 10 units are uploaded in February 2022. Each module will cater do a different and more challenging level.
Bhí an méid seo le rá ag Príomhfheidhmeannach Fhoras na Gaeilge, Seán Ó Coinn:
Bhí lúcháir ar Fhoras na Gaeilge dul i bpáirt le CLG Uladh leis an Ghaeilge a chur chun cinn trí na clubanna agus na contaetha i gCúige Uladh siar in 2018. Bhí sé mar sprioc ag an tionscadal comhdhlúthú agus buanú a dhéanamh ar na struchtúir atá fadbhunaithe do chur chun cinn na Gaeilge in Ulaidh agus bhí sé mar aidhm againn úsáid na Gaeilge a fheabhsú, a fhorbairt agus a chur chun cinn trí dheiseanna sainithe i measc an phobail agus dearcadh dearfach a chur chun cinn. Dhírigh an tionscadal seo ar na spriocghrúpaí atá aitheanta ag Foras na Gaeilge – scoileanna pobail, imeachtaí pobail agus obair óige agus cuireadh le húsáid na Gaeilge sa phobal, agus neartaíodh í trí ionchur traenála, ranganna Gaeilge agus deiseanna úsáidte do labhairt na Gaeilge sna clubanna, agus ag imeachtaí sna contaetha agus sa Chúige.
Tá CLG Uladh le moladh as chur chuige ceannródaíoch seo, agus tá toradh na hoibre anois mar eiseamláir don chuid eile den eagraíocht agus a mhacasamhail d'eagraíochtaí fud fad an oileáin seo. Spreagfaidh an plean teagaisc agus na hacmhainní seo oidí atá mar bhaill de chlubanna tabhairt faoi ranganna Gaeilge agus cuirfidh sé go mór le húsáid na teanga ag leibhéal an phobail. Fágfaidh an plean teagaisc nuálach seo rian fadtéarmach ar an chomhpháirtíocht atá bunaithe idir Foras na Gaeilge agus CLG Uladh agus bheifí ag súil go bhfoghlaimeoidh na Comhairlí Contae agus na cúigí eile ó thorthaí an tionscadail, agus go mbeidh an tionscadal mar eiseamláir don todhchaí.
Access the resource here, or contact Tricia Ní Chearra at tricia.nichearra.ulster@gaa.ie.