Ulster GAA Vaccination Volunteer Team celebrated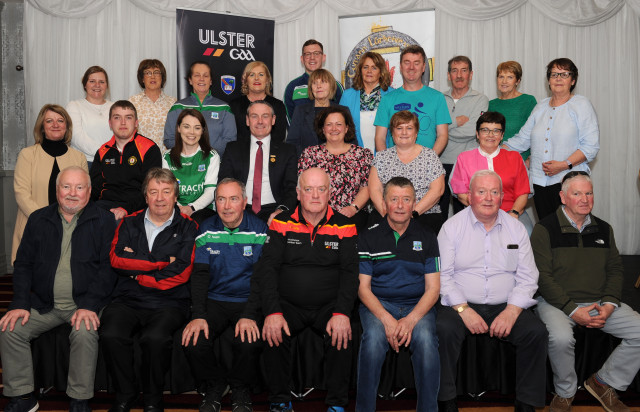 Ulster GAA joined with our partners in the British Red Cross and Volunteer Now to celebrate and thank the dedicated Vaccination Volunteer Team who manned the Mass Vaccination Centres across the province for seven months last year. 
Volunteers were delighted to come together again for two recent special 'Thank you' events, one in Enniskillen prior to the First Round of the Ulster Senior Championship, and one in Parliament Buildings in Stormont.
Celebrating the Vaccination Volunteer Team, Ulster GAA President Ciaran McLaughlin said:
"It is with great pride that, on behalf of Ulster GAA, I can say 'Míle Buíochas' to this wonderful group of GAA volunteers, from right across Ulster, who responded so positively to help our community in the midst of a worldwide pandemic. There is no doubt this was a mammoth effort by all."
"For the GAA, this Programme was part of a much wider offering by GAA volunteers in their clubs responding to the needs of their local communities and the needs of the most vulnerable in our society.  GAA clubs delivered many excellent community services during the various lockdowns including grocery and medical deliveries, fitness and coaching programmes through social media, charity fundraising, befriending services and catering services.  I am extremely proud of all that the GAA achieved and delivered.
"The volunteering effort at the Mass Vaccination Centres was a real example of strong partnerships with three very different organisations coming together to deliver for the community as a whole.  I am proud of our partnership with the British Red Cross and Volunteer Now and of all that we achieved throughout 2021 together. It is great to welcome volunteers from all three organisations to these two events and I hope the friendships forged between the volunteers will become lifelong in the years to come.
"Our partnership has certainly flourished and I am delighted that once again we are working together to provide volunteer support at the new Welcome Centres for Ukraine Refugees. Again, we are committed to working together in response to humanitarian need and crisis, and we are proud to play our part.
"On behalf the GAA, I thank all those who volunteered their time and energy to this programme.  Finally, I also thank our team in Ulster GAA who managed this programme, working with our partners and supporting the volunteers – Diarmaid Marsden, Sharon Haughey-Grimley and Pierce Caherty.
"We are very proud of our Vaccination Volunteer Team and I congratulate you all on a job well done."