Ulster GAA Corporate Partners
Impressive Donegal retain Title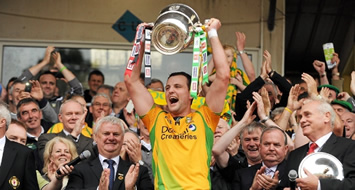 Ulster GAA Football Championship Final:
Donegal 2-18 Down 0-13
Donegal retained the Ulster title for the first time in their history with an emphatic 11-point victory over Down in Clones on Sunday.
It was a highly impressive performance from Jim McGuinness's side, especially in the second half when they outscored Down by 1-13 to 0-6. The game had been very tight in the first half, with Down leading at stages, and only a late rally from Donegal at the end of the opening period sent them in ahead, leading by a point at 1-5 to 0-7.
They edged three clear ahead early in the second half, and then a goal from defender Frank McGlynn with 20 minutes to go sent them six clear, and cruising unopposed towards the retention of the Anglo Celt Cup.
They then rammed home their dominance in the final quarter, exposing gaps in the Down defence and slotting over points with ease to record a big victory.
Tyrone win 23rd Minor Title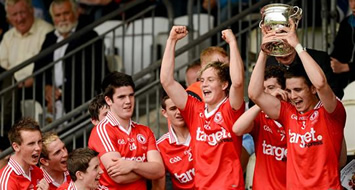 Electric Ireland Ulster Minor Football Championship Final:
Tyrone 0-14 Monaghan 1-8
Tyrone clinched the Red Hand County's 23rd Ulster Minor Football title as they edged out Monaghan 0-14 to 1-8 in the final at Clones.
Monaghan led 0-3 to 0-1 but Tyrone responded with seven unanswered points in a 10-minute period to move five up.
Conor McCarthy's 24th-minute goal got Monaghan back into the game and they moved 1-7 to 0-9 ahead after half-time.
But Tyrone hit five unanswered points to take control again as they earned a deserved victory.
Ulster Championship Attendances Up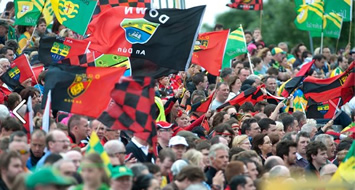 Ulster GAA President Aogan O'Fearghail highlighted Ulster GAA's delight at the increase in attendance figures for the 2012 Championship. Overall 124,884 supporters attended the Ulster GAA Senior Football Championship - up nearly 15,000 from 2011, representing a 13% increase. The Ulster GAA Senior Hurling Championship also showed a slight increase in attendances figures compared to 2011. This news follows a year where the Provincial Council has seen attendances increase significantly in all competitions; both the Ulster GAA Club Championship and Ulster GAA Power NI Dr. McKenna Cup seen an attendance increase of approximately 20% while the Ulster GAA Under 21 Championship attendances were up 15%. The 34,696 sell out attendance at the Ulster GAA Senior Football Final represents the largest attendance at an Ulster GAA Final in three years.
The Ulster GAA President highlighted that Ulster GAA had conducted a review following the 2011 Championship and put in place a new strategy for the marketing and promotion of our games.
Antrim cruise to 11 in a row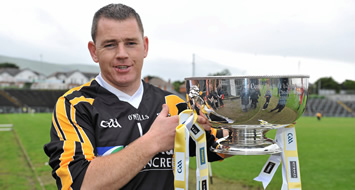 Ulster GAA Hurling Championship Final:
Antrim 3-18 Derry 0-9
Antrim claimed their 11th successive Ulster GAA Hurling Championship title with an 18-point win over Derry at Casement Park on Sunday.
The Saffrons were on their way to victory in the eighth minute when Conor Carson hit the first of their three goals.
Four further points from the excellent Liam Watson left Jim Nelson's side 1-9 to 0-5 ahead at the break.
Derry's cause wasn't helped by the dismissals of Mark Craig and Michael Warnock, both on straight red cards, and they had goalkeeper Darrel McDermott to thank for a string of fine stops.
However, Antrim did hit a second goal in the 64th minute when Shane McNaughton hit the back of the net, before Eddie McCloskey completed the rout with a third in the closing stages.
Convery makes it 4 in a row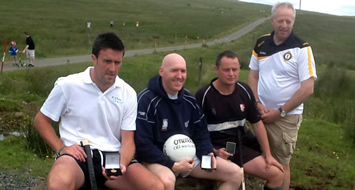 While the underfoot conditions were still very wet, the sun was out as the rescheduled O'Neill's Poc & Cic Fada Uladh events went ahead on Divis Mountain on Saturday 21st July.
Fresh from a Turkish holiday, Derry Poc Fada specialist, Ruairi Convery flew in to Dublin at 8.00am and was striking his first sliothar at 11.30am in the annual event, which he had made his own over the last three years.
Eight competitors participated in the Senior event, including Canice Dowling from the Cualadh Club in Dunlaoighre, Co. Dublin.  Canice was keen to steal away Convery's crown.  Others on the same mission included Kevin Mc Kernan (Antrim), Niall Gallagher, (Tyrone), Conor McKee (Armagh), Stephen Burns (Donegal), Karol Keating (Down) and Declan McGarry (Fermanagh).
Down win Minor Hurling Replay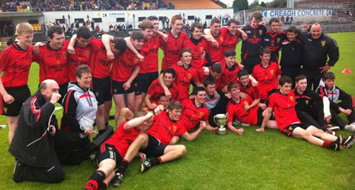 Electric Ireland Ulster GAA Minor Hurling Championship Final Replay:
Down 0-18 Antrim 1-12
A superb second half performance from Down saw them capture their first provincial title in 18 years at Casement Park on Saturday afternoon.
Wing forward Caolan Bailie produced a Man-of-the-Match performance for the Mourne men finishing up with a personal tally of 13 points, 11 which came from placed balls.
The Saffrons held a two point advantage by the time the half-time whistle sounded - 1-9 to 0-10. Christy McNaughton's goal on seven minutes proved to be decisive.
However, after the resumption Down outscored the home side 0-8 to 0-2. Bailie fired them infront for the first time in the game 10 minutes into the second half, from that moment Fergus Cooper's side never looked back as they went on to claim the Ulster title.
Antrim retain U21 Hurling crown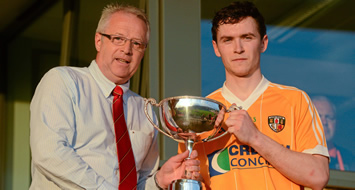 Bord Gáis Energy Ulster U21 Hurling Championship Final:
Antrim 2-20 Derry 1-12
Antrim won their fourth Ulster Under 21 Hurling Championship in a row when they beat Derry in Wednesday evening's final at the Morgan Athletic Grounds, Armagh. The Saffrons were in command for most of the game, and a superb goal from corner-forward Stephen Smyth in the sixth minute gave them early dominance.
Derry got back into the game when full-forward Shane Farren rattled in an excellent goal and point from a free soon afterwards by the same player had them level, but a goal from Antrim team captain Conor McCann in the nineteenth minute swung the game back in the Saffron's favour and they went on lead by 2-10 to 1-08 at the break.
The second-half saw Antrim tighten their grip on the game and could have had three more goals in the second-half had it not been for excellent saves by Derry netminder Oisin O'Doherty who pulled off top class saves to deny Aiden McKeown, Conor McCann and Stephen Smyth.
Monaghan Ladies Create History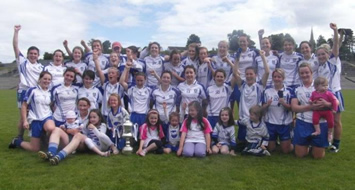 TG4 Ulster Ladies Senior Football Championship Final:
Monaghan 5-25 Donegal 1-8
Monaghan created history on Sunday 15th July, winning their third successive Ulster Senior championship title.
Winning the 3 in row was one thing, but it was the manner in which they won that left people talking. They were simply outstanding, subjecting Donegal to wave after wave of attack.
As soon as the ball was thrown up, it was clear what Monaghan's intentions were.
Belfast Cúchulainns welcomed in London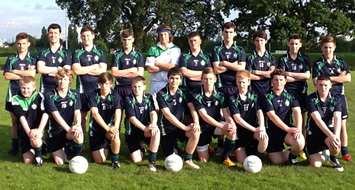 Twenty young men from Belfast travelled to London in mid-July to represent Ulster GAA in the All British Championships. Unfortunately the recent wet weather in London resulted in the playing fields at Greenford being deemed unplayable and despite all efforts of the GAA Council of Britian the competition was postponed. However, as arrangements were made it was decided the Belfast Cúchulainns would travel and play a few games while they were there.
The boys were representing four schools making-up the Belfast Cúchulainns, namely; Ashfield Boys School, Corpus Christi, St Patricks College and Belfast Boys Model. Teachers Lisa Brimley, Gareth Coogan, Declan McLarnon and Áine Armstrong gave up their summer holidays to accompany their pupils on this once-in-a-lifetime trip. Ulster GAA were represented by Uachtarán Aogán Ó Fearghail and his wife Frances, along with team manager and coach Ryan Mellon, and Maura Kelly.
GAA represented at TAFISA Games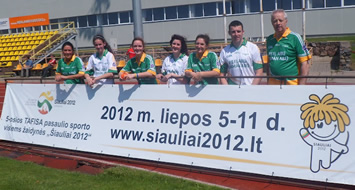 Young Elite GAA Players from Belfast recently showcased Gaelic Games at the TAFISA World Sport for All Games in Siauliai, Lithuania.
This is the very first time Gaelic Games was included in the World Sport for all Games and Ulster GAA was very proud to send a delegation from St Dominic's Grammar School in Belfast to represent the Association. The delegation included PE teacher and recent Olympic torch bearer Laura McCann from St Dominic's Grammar Belfast and four of her elite sporting pupils along with Ulster GAA Vice President of Ulster GAA Martin McAviney and Regional Development Officer Shane McCann.
This was an excellent opportunity for Ulster GAA to promote Ireland's traditional games as well as new recreational games Peil Abú and Camán Abú.
Ulster Gaelic 4 Mothers & Others Blitz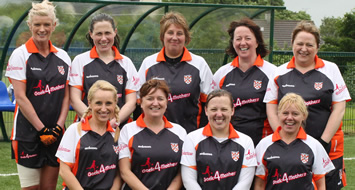 Mid Ulster Sports Arena, Cookstown was the venue for the first Ulster Gaelic4Mothers and Others Blitz of 2012 on Saturday 30th June where 130 women from around the province came together to take part.
Teams from Antrim, Armagh, Down, and Tyrone were among those who took part and with fun and participation the name of the game a great day out was enjoyed by all those who attended. There were 11 teams in total and each team was guaranteed at least 4 matches throughout the day.
Despite the rain, the teams played throughout, and the weather refused to dampen the moods of the participants who entered into the spirit of the competition and completed an extensive programme of games.
Fermanagh participate in Feile na nGael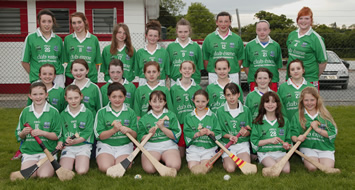 For the first time a Fermanagh Camogie squad participated in the national Feile na nGael competition in Dublin. The team was comprised of girls from all across the county.
It was a huge achievement for Fermanagh to be represented in this competition as Camogie continues to develop in the county. Camogie have received great support from Fermanagh GAA on this initiative. They are currently working closely with primary schools in the county.
Only recently 6 primary school Hurling and Camogie blitzes were run in Fermanagh with over 500 children participating. This has given a huge platform to Camogie Development in Fermanagh and helped greatly in the squads preparation for Feile.
Safeguarding in Sport and Leisure Conference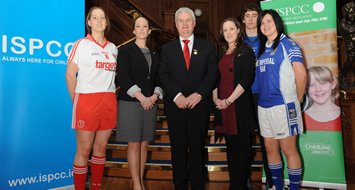 The NSPCC's Child Protection in Sport Unit and Sport NI are working in partnership with a number of sports governing bodies to deliver an All Ireland Safeguarding in Sport and Leisure conference.
The conference is targeted at those in the role of Child Welfare Officer/Children's Officer at club or community level in any sport and those with responsibility for the development and management of clubs/activities for young people.
This will be a full day conference with key note presentations to include:
• Why a well-run club can be a safer club. - Simon Toole Performance Consultant (Coaching & Clubs)SportNI and Bernie Priestly Irish Sports Council Code of Ethics Manager
• Social media and the practical implications for safeguarding in clubs. - Jim Gamble is delivering a keynote presentation on social media issues. Jim was the founding Chief Executive of the Child Exploitation and Online Protection (CEOP) Centre.
• The impact of and how to respond to bullying - Ineke Houtenbos Childline Supervisor
• Safe recruitment practices: why they are important - Veronica Grey Volunteer Now and Bernie Priestly
Handball: Armagh's success on centre court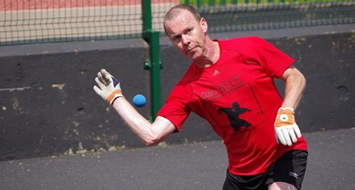 Armagh recently had one of their most succesful Handball days. On the courts in the Citywest, Dublin, Clann Eireann took top Girls Honours in the All-Ireland GAA Handball 40×20 Feile and five National Onewall titles were also secured.
In capturing the Girls 15 and Under title and the Boys 17 and Under one wall Nationals titles, Niamh Coleman and Conall McCavitt, gain their respective places on the Irish GAA Handball Team for the World Championships in October.
All Ireland 40×20 Feile
On Thursday, five young Clann Eireann lassies made their way from Lurgan, some via Donegal Gaeltacht to the world class Citywest Arena to compete in Division 1 of the Feile competition. Captained by Alana Doran, the team played in a round robin competition and after finishing in the top two of their group, they were through to the final on Friday evening.
Derry Hurling 7s Tournament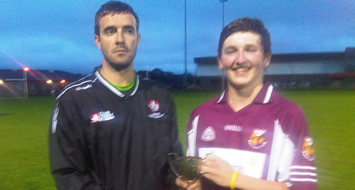 During the last week in June, Derry hosted their annual 7-a-side hurling tournaments for under 14s and under 16s. The under 14 competition was hosted in Claudy GAA with their 3G playing facility an ideal venue for small sided games.
There was an 'A' section and a 'B' section, with the top two teams from each group playing in the respective finals.
A Section: Kevin Lynchs A, Lavey, Banagher, Swatragh, Kevin Lynchs B
B Section: Na Magha, Coleraine, Lavey B
In the B section Na Magha defeated Coleraine in the final, whilst in the A section the 2 Kevin Lynchs teams progressed after the group games.
What's Happening this Month
If you are having trouble viewing this, view our Online Events Calendar.
back to top