Exemplary young coach wins Translink Young Volunteer for April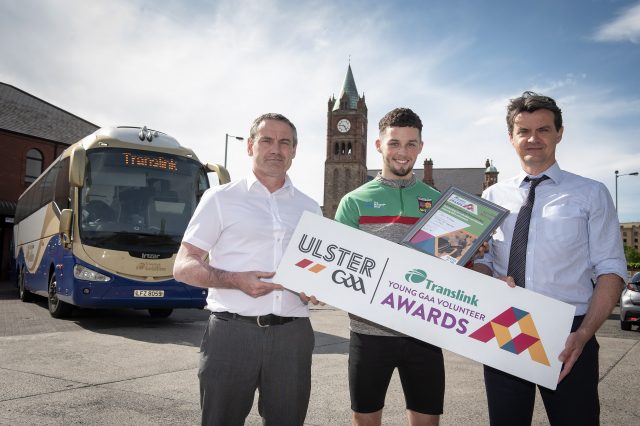 Corin McMonagle, 21,  from St Mary's GAC Slaughtmanus, Derry has been awarded Translink Young Volunteer for April.
Corin is heavily involved in his club in Slaughtmanus as a player and volunteer coach in the local primary school and also for a number of underage teams.
Ulster GAA Vice President Ciaran McLaughlin presenting the award to Corin McMonagle said:
"I congratulate Corin McMonagle winning this prestigious award in recognition for his commitment and contribution to Gaelic Games. There is no doubt he is making a positive impact on the lives of young people in his club and I encourage him and other young people to continue volunteering in sport."
Translink Assistant Service Delivery Manager Tony McDaid said: "
It's incredible the effort and impact young people make to their GAA clubs in towns and villages across the province every week. When we think of young people in the GAA we often see them as players but many, like Corin, are contributing so much more and it is inspiring. I warmly congratulate Corin for his hard work and dedication to his club. He is a very worthy winner of this award."
Slaughtmanus Secretary Shona Watson congratulated Corin saying:
"Corin's commitment and attitude to his personal training and to the development of our youth teams is exemplary. He is a very well mannered young man, always showing respect to his fellow players and committee.
"He has just completed an 8 week coaching programme in one of our local primary schools having spent 3 hours per week coaching all the children in the school in different time slots. He has also helped run our Primary School indoor Winter Academy in December 2018 and it was from this he found a love for coaching.
"Corin when called upon has coached our newly formed girls U14 and U16 teams as well as assist and coach our U10 and U12 teams over the last 2 months. As a small rural club we are finding it extremely difficult to recruit and retain volunteers/coaches, Corin's help has shone like a beacon to other young club members who he is encouraging to come along and help."
To nominate a young person for this award, visit https://ulster.gaa.ie/youngvolunteeraward/ or email sharon.haughey.ulster@gaa.ie
The nomination process opens on the 20th of each month and closes on the last day, after which a panel will select the winner. Monthly winners will receive a commemorative certificate and a set of Enterprise tickets, provided by Translink.