Ulster GAA Corporate Partners
A Great Family Day out!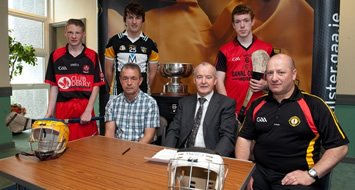 Ulster GAA has launched it 2012 Ulster Hurling Championship Finals Day at the University of Ulster at Jordanstown.
The 2012 Ulster Hurling Championship Finals Day will take place on Sunday 8th July 2012 from 1.30pm in Casement Park, Belfast with Down Minors taking on Antrim in the curtain raiser followed by Derry and Antrim in the Senior game at 3.30pm.
Speaking at the launch, Ulster GAA Treasurer Michael Hasson said, "Hurling in Ulster continues to develop with a lot of hard work taking place in schools, clubs and counties and that is reflective in the exciting and good quality Championship we've seen so far. It's also seen in the recent successes of Armagh and Tyrone who lifted the Nicky Rackard and the Lory Meagher Cup. Congratulations to both teams and management teams."
Ulster Secretary awarded Doctorate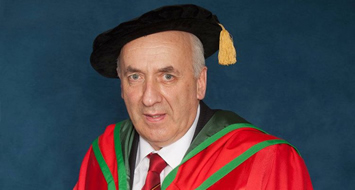 The University of Ulster today Conferred the Award of Honorary Doctorate in Science (D.Sc) on Ulster GAA Secretary & Director Danny Murphy for his services to Sport and Community Relations.
Uachtarán Chumann Luthchleas Gael (President of the GAA) Liam O'Neill said: "This is a proud day for the GAA and Ulster. We are delighted that Danny Murphy's long standing and immense contribution to our Association has been recognised in this way by the University of Ulster. Danny's vision and leadership has been at the core of the GAA's Community Engagement and Outreach work, which has a strong and positive impact right across the Community.
"I am personally delighted to see Danny receive this level of recognition for all his hard work and know I speak on behalf of the wider GAA family by acknowledging this accolade. We wish him many more years of active involvement at all levels of the GAA."
Ulster Championship - Nothing beats being there!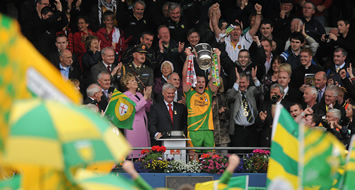 The message from Ulster GAA is 'Nothing beats being there' ahead of the 2012 Ulster Football Championship Finals Day.
All roads will lead to Clones on Sunday 22nd July 2012 as four Ulster counties are represented in the 2012 Ulster Football Championship Finals Day. In the Minor game, which throws in at 12noon, Monaghan take on Tyrone while the Senior game will see current Ulster Champs Donegal fight to retain their title against the mighty Down team at 2pm.
A sell-out crowd is expected so patrons are asked to secure their tickets from their clubs, county boards and www.tickets.ie early to avoid disappointment. Tickets will be available from Friday 6th July.
Armagh & Tyrone Hurling Successes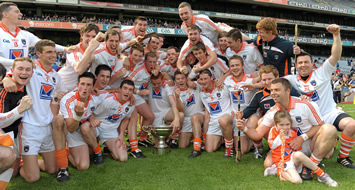 Congratulations to Armagh and Tyrone Hurling teams who have succeed at All Ireland Ireland recently, with Armagh claiming the Nicky Rachard Cup and Tyrone claiming the Lory Meagher Cup at Croke Park.
Armagh eased to a 3-20 to 1-15 win over Louth in the Nicky Rackard decider.
Armagh never looked troubled as they claimed their second Nicky Rackard Cup title in three years, thanks to an 11-point win at Croke Park.
Goals were central to this Orchard County win, with Michael Johnston's charges craving three-pointers in the opening half.
Brady secures magnificent seven in US Nationals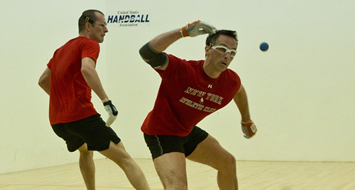 Cavan's Brady is on top of the world again with just three months to go before his greatest test of all in the World Handball Championships in The Citywest International Events Arena, Dublin, this October 11th-21st.
Brady was one of a number of top Ireland players who made the journey to Los Cabaleros, California, to take on the cream of International 40×20 handball in the US 40×20 Handball Nationals.
His ultimate title success, which saw him secure a phenomenal 7th US title win in 8 years, was part of the greatest ever record of Irish travelling players to the USA blue ribband event.
Impressive Derry claim Rosina McManus Cup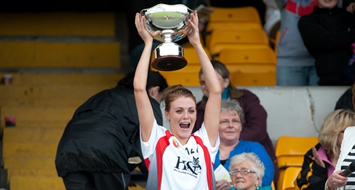 Derry came flying out of the traps in the NWP Recycling Ulster Senior Championship Final to beat Antrim convincingly with a fantastic performance with a scoreline of 6-13 to 0-6. Derry started very strongly and Karen Kielt fired Derry ahead with a goal in the first minute. Derry tagged over further points from Sinead Cassidy, Katie McAuley and Grainne McGoldrick before Samantha McKillen scored Antrim's first point.
When Katie McAuley added a third Derry goal before half time to make it 3-9 to 0-4 after Emma McMullan tagged over a couple of points for Antrim the game was over a as a contest. In the second half Antrim did try hard however their forwards were snuffed out at every opportunity and left big spaces at the back for Derry to exploit.
Armagh are Ulster Ladies Intermediate Champions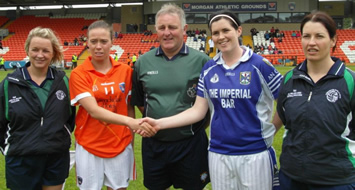 Armagh claimed the 2012 Ulster intermediate title with a convincing nine point win over Cavan at the Morgan Athletic Grounds.
The experienced Shauna O Hagan got the ball rolling for Armagh with a couple of early points. Roisin O Keefe opened Cavan account and a nice point from Killygarry's Caitriona Smith levelled matters with ten minutes gone. In the 15th minute Armagh scored the first of their three goals. A lovely shot from Caitlin Malone struck the post and Shanua O Hagan reacted quickest to the rebound to find the net. A Mags Mc Alinden point then extended the orchard sides lead however Roisin O keefe goaled in the 23rd minute which left the interval score 1-3 to 1-2 in favour of Armagh.
Cavan claim Ulster Junior Camogie Title
Cavan Made the stronger start and in the first minute scored from a free. But Armagh's Michelle Morgan soon levelled the scores with a well taken point from play. These young girls were standing toe to toe with their rivals. Soon great points from play by Joanne Mullen in the 4th minute and Rachael Merry in the 6th minute had put Armagh ahead. Cavan stepped up their pace and scored from a free taken by Roisin O Keefe in the 7th minute and she added to her tally again in the 9th minute to bring the sides level.
This was shaping up to be a great match with both sides going for every ball with everything they had. And the young Armagh girls were handling the bigger more physical Cavan side rightly until in the 14th minute the experiences corner forward Brid Boylan, Cavan's vice-captain from the Castletara club side stepped her marker and netted the ball to put her county ahead by 3points.
Antrim claim Ulster Ladies Junior title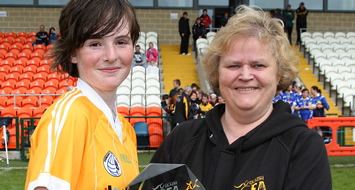 Antrim proved much too strong for Derry as they easily ran out winners of the Ulster Junior title. The Saffrons were impressive and with nine different players on the score sheet they will prove difficult opposition for any side they meet in the All Ireland championship series.
Antrim's play was much more fluent than Derry and it was really no surprise that they led at the break 2-9 to 1-3. In the second half Antrim continued to dominate and as Derry faded the goals kept coming. In fairness to both sides they emptied their benches and in all forty players got to experience an Ulster final.
The Antrim starting full forward line contributed 3- 9 with Rachael Fulton particularly impressive as she contributed 2-3.
Fermanagh claim U21 Hurling Shield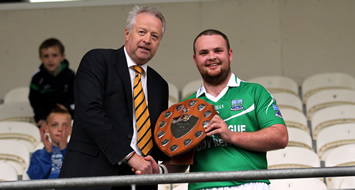 A well known British politician made the observation that a week is a long time in politics. Seemingly a fortnight for Fermanagh hurlers is a long time in hurling, for last Wednesday 20th June, 2012 , the Fermanagh under 21 hurlers paid Tyrone back by lifting the Ulster under 21 Hurling Shield.
Two statistics sum up this game's opening half, Tyrone leading by 7 points to 5 points for their Fermanagh opponent at half time. But below the scoring radar thy battling Erneside defenders forced the Red Hand attackers into a thumping 9 wides to Fermanagh's modest 3 wides. With advantageous wind at their backs Tyrone raced into 2 point lead courtesy of their mid-fielder Aidan Kelly.
Phoenix Ulster GAA Elite Academy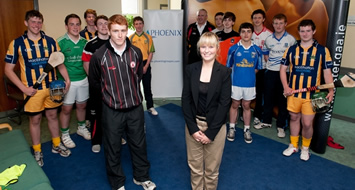 The 2012 Phoenix Ulster GAA Elite Academy is underway at the University of Ulster, Jordanstown for promising young GAA Gaelic Footballers and Hurlers.
The Phoenix Ulster GAA Elite Academy has brought together Ulster's most promising young GAA athletes for a two day residential at the University of Ulster's Jordanstown campus. The Academy aims to recognise and develop the skills and abilities of 90 young players who have impressed playing for their club, school or county underage teams in both Gaelic Football and Hurling.
The Phoenix Elite Academy encourages the young players to look after their health and wellbeing while developing their skills in Gaelic Games. Areas such as nutrition and hydration, fitness testing, functional movement analysis, skill development and flexibility will be some of issues tackled at the academies.
O'Neills Poc & Cic Fada Uladh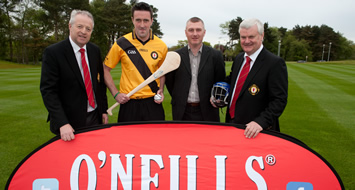 The 2012 O'Neills Ulster Poc Fada which will take place on Saturday 21st July 2012 starting at 11.00am on Divis Mountain, just outside Belfast.
Speaking ahead of the event Ulster GAA President Aogán Ó Fearghail said, "The Poc Fada is a very proud tradition for the GAA where Hurlers and Camogs have the opportunity to demonstrate their skills and determination. This year will see an added dimension with a novel 'Cic Fada' competition also being organised.
"We are delighted to hold Ulster Poc Fada on Divis Mountain, just outside Belfast for our third successive year. It promises to be a great occasion and no doubt there will be a great buzz on the mountain, with a good turnout of competitors expected. I wish all participating Hurlers, Camogs and Footballers, both male and female, good luck as they set out to compete for the Ulster Poc and Cic Fada titles."
Team aim to promote GAA in Lithuania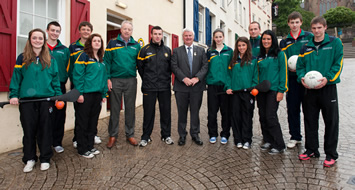 Ulster GAA will be represented for the very first time at the 5th Annual TAFISA World Sport for All Games to be held in Siauliai, Lithuania, from 5th to 11th July 2012.
Ulster GAA will be represented by students from St Dominic's Girls School in Belfast and St Pius School in Magherafelt. Ulster GAA Vice President Martin McAviney will lead the team to Lithuania which will include eight students, two teachers and Ulster GAA Coach and Regional Development Officer Shane McCann.
Speaking at the official announcement Ulster GAA President Aogán Ó Fearghail said, "Ulster GAA is delighted to announce our involvement in the 2012 TAFISA World Sport for All Games and it is a great honour for the lucky students selected to represent their school, their family and their province at these world games."
Ulster GAA collects Workplace Award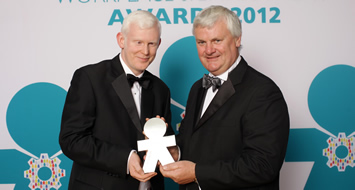 Companies representing sectors from pizzas to packaging, architecture to insurance, power to post, were lauded last night at the sixth annual Irish News Workplace & Employment Awards in the spectacular Titanic Belfast.
Allstate Northern Ireland - which a year ago was the inaugural 'Champion' - was the night's only multiple winner, clinching victory in two of the 18 categories.
While a handful of past victors made it back on to the podium, the gala night was as much about celebrating a clutch of new winners.
They included west Belfast-based Delta Print & Packaging which claimed the Right Place to Work prize for medium-sized organisations.
Ulster GAA took the Workplace Excellence Award.
Sports Stars Support Lifeline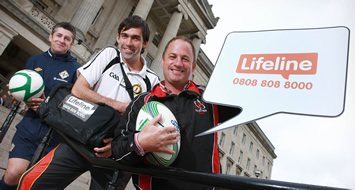 Leading sports personalities are asking men facing problems to seek immediate help and support by ringing Lifeline 0808 808 8000, the regional crisis counselling helpline service.
Heartfelt messages have been recorded by football, Gaelic football and rugby stars as part of a new radio advertising campaign aimed at men, as well as women who have an influence in their lives.
The campaign is being supported by the Health Minister Edwin Poots MLA and Sports Minister Carál Ní Chuilín MLA to highlight the need for men to seek help in times of crisis by using the free, 24/7 helpline service (www.lifelinehelpline.info).
Olympic Flame Comes to Ballyholland Sports Day
On Wednesday 30 May the Olympic flame made a surprise visit to Ballyholland P.S. Sports Day to kick start the Olympic celebrations in County Down.
The children of Ballyholland school together with the teachers, staff and coaches from Ulster GAA organised a fun filled day of events to celebrate this special year of London 2012. There was an opening ceremony with our very own Olympic flame and the torchbearer was head boy, Pearse Loughran.
The rest of the children had individual flags of participating countries and all the Primary 7 children had huge flags that were paraded in the middle of the pitch. Music was played out over the sound system with the theme of the 'world in union' and togetherness and spirit of the Olympic Games.
Comórtas Peile na Gaeltachta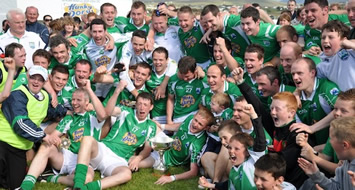 Imríodh Comórtas Peile na Gaeltachta I Machaire Gathlán,Gaoth Dobhair,Tír Chonaill le linn deireadh seachtaine na cincíse. Bhí an Ghaeilge,cultúr na  Gaeltachta is na cluichí Gaelacha go mór chun cinn I rith an deireadh seachtaine. Tháinig na mílte chun na himeachtaí ó na Gaeltachtaí ar fud na tire agus ba mhór an t-ard mholadh a bhí acu do lucht eagraithe an chomórtais. Aimsir millteanach maith a bhí ann, cluichí den scoth is fáilte chroíúil ó chlub CLG Ghaoth Dobhair. Ón foscailt oifigiúl oíche de hAoine go dtí deoreadh an cluiche ceannais sinsir de Luain,bhí atmasféar ghaelach ar dóigh ann.
Tháinig foirne is lucht tacaíochta ó na Gaeltachtaí ar fad agus bhí canúint na Muimhnigh is glór na gConnachtaigh le cluinstin I measc blas na hUltaigh.
What's Happening this Month
If you are having trouble viewing this, view our Online Events Calendar.
back to top