Back to Acmhainní agus Feachtais / Resources & Campaigns
Craobhchomórtas 2019 / Coirnéal na Gaeilge at Intercounty Championship 2019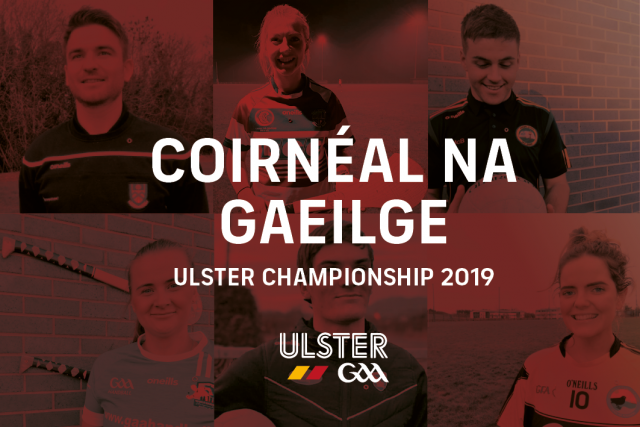 Ulster GAA is proud to announce the provision of Coirneáil na Gaeilge throughout the Ulster Championship series. For the first four games of the championship, i.e. The Preliminary and the first three Quarter Finals (12th, 18th, 19th and 25th May), those wishing to converse in and/or listen to Gaeilge throughout the match are advised to purchase terrace tickets.
From the 26th May clash between Dún na nGall and Fear Manach in Brewster Park, throughout the Semi-Finals and Final games, specific seated areas will be reserved for those wishing to watch the match from Coirnéal na Gaeilge.
Patrons of Coirnéal na Gaeilge will avail of a Group Pass Offer throughout the championship; a reduced ticket of £13/ €15 will apply. Applications to be made directly to CLG Uladh and are dependent on availability. To avail of tickets for Coirneál na Gaeilge, please contact An tOifigeach Gaeilge at tricia.nichearra.ulster@gaa.ie.
Tá bród an domhain ar CLG Uladh 'Coirnéal na Gaeilge' a fhógairt do shraith na bliana 2019. Ón 12ú-25ú Bealtaine, moltar do Ghaeilgeoirí, nó dóibh siúd a mbeadh suim acu an Ghaeilge a chloisteáil le linn na gcluichí, ticéid a cheannach d'ardán an staidiam.
Ón 26ú Bealtaine, agus an cluiche idir Dún na nGall agus Fear Manach, beidh áiteanna ar leith curtha in áirithe don 'Choirnéal' seo. Beidh lucht na Gaeilge i dteideal lacáiste ar an dóigh seo agus £13 / €15 ar thicéid an Choirnéil. Caithfear teagmháil a dhéanamh le CLG Uladh agus le hOifigeach Gaeilge na Comhairle: tricia.nichearra.ulster@gaa.ie.